St. Louis prosecutor Kim Gardner scorched online after execution-style shooting of homeless man
Missouri AG says alleged shooting of homeless man David Saldana by suspect Deshawn Thomas further shows 'immediate need to address violent crime in St. Louis'
St. Louis Circuit Attorney Kim Gardner was torched online after a video went viral showing a suspect fatally shoot a homeless man execution-style in broad daylight in the Missouri city.
Several social media users noted Gardner's campaign was funded by George Soros, blaming the prosecutor for what they described as a sad state of rampant crime and violence.
"DISTURBING CONTENT: A man loads a gun and shoots a homeless man in downtown St. Louis just 15 minutes from where I live," Ryan Cunningham tweeted, sharing the shooting video with his 73,000 followers. "Kim Gardner, the St. Louis Prosecutor, is George Soros funded and often lets people like this go free with no charges."
Deshawn Thomas, 23, was charged with first-degree murder and armed criminal action in connection to the shooting of a homeless man identified as David Saldana, the St. Louis Post-Dispatch reported. He was taken into custody Monday hours after allegedly shooting Saldana shortly after 10 a.m.
ST. LOUIS SUSPECT SEEN CALMLY LOADING GUN, SHOOTING HOMELESS MAN EXECUTION-STYLE IN BROAD DAYLIGHT
Bystander video circulated online showing Saldana sitting on the curb separating the sidewalk from the street.
The suspect, identified as Thomas, is seen calmly loading his gun and shooting the man at point-blank range. Witnesses told police they saw the two men fighting at a nearby gas station minutes earlier, but at the time of the shooting, Saldana was sitting down, not physically engaging with the would-be gunman.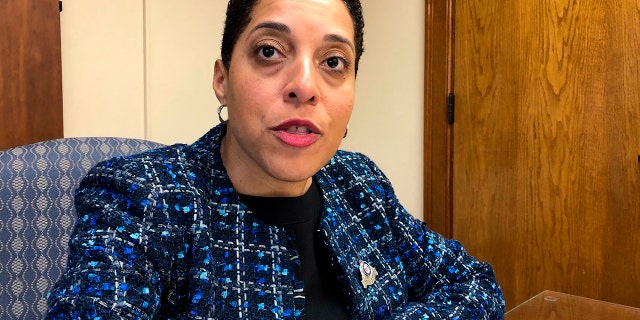 "This incident further demonstrates the immediate need to address violent crime in St. Louis," Missouri Attorney General Andrew Bailey said Thursday in a statement to Fox News Digital.
Bailey, a Republican, has filed court documents seeking Gardner's ouster on three grounds: failure to prosecute existing cases, failure to file charges in cases brought by police, and failure to confer with and inform victims and their families about the status of cases.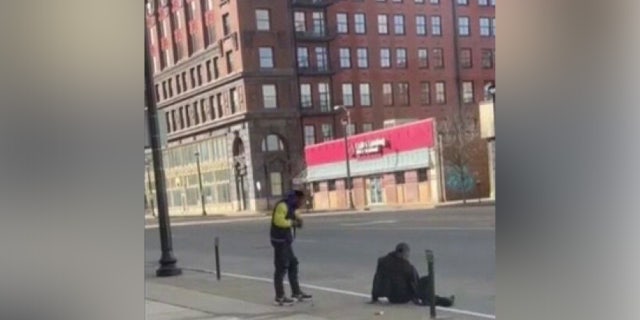 SOROS-BACKED PROSECUTOR PUSHED BY MISSOURI AG TO RESIGN HAS HISTORY OF SCANDALS, ALLEGED MISCONDUCT
On Monday, Missouri Republicans who want the state to take over prosecutions of violent crimes in St. Louis sharply criticized Gardner after a teenage volleyball player from Tennessee lost her legs in a crash caused by a speeding driver facing felony charges.
Gardner is facing calls to resign from critics who blame her for failing to keep Daniel Riley, 21, behind bars before the Feb. 18 crash that injured 17-year-old Janae Edmondson.
"The entire situation could have and should have been avoided if not for the ineffectiveness of that office," St. Louis Police Officers Association business manager Joe Steiger said during a Senate hearing for legislation that would give the governor the power to appoint a special prosecutor to take on violent crimes in counties with a homicide rate over a certain threshold. "Janae Edmondson isn't the first victim who's been affected by Ms. Gardner's failures as circuit attorney, but hopefully she will be the last."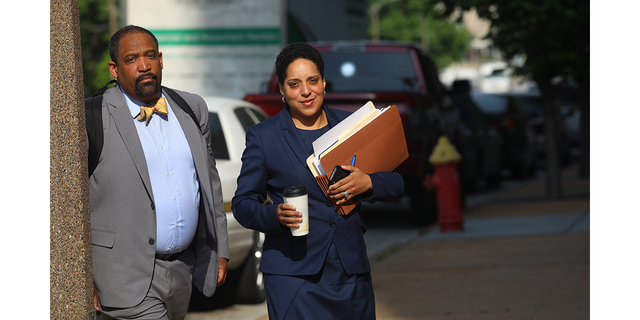 Related to the execution-style shooting, RedState, which boasts nearly 310,000 followers, also tweeted, "Kim Gardner's St. Louis: Man Casually Shoots Homeless Guy in the Head as Witnesses Do Nothing."
CLICK HERE TO GET THE FOX NEWS APP
"Seeing homeless man get executed in St. Louis: How is Kim Gardner still Prosecutor?" another user, Chris Moreno, who goes by "Christopher the Warrior," tweeted to his 11,000 followers.
Several other users quoted a Daily Mail story about the shooting that says, "Frightened St Louis residents say it is proof that local leaders including Soros-backed progressive Circuit Attorney Kim Gardner do not have a handle on the escalating crime."
The Associated Press contributed to this report.