Sides fail to reach agreement in lawsuit over conditions at immigrant detention centers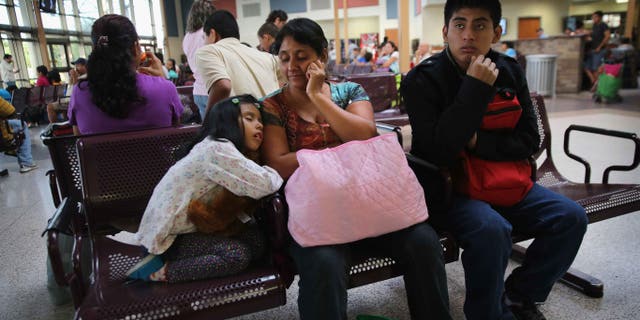 SAN ANTONIO (AP) – The U.S. Justice Department and immigrant rights lawyers have failed to reach an agreement in a lawsuit over conditions faced by immigrant children detained with their mothers after crossing the U.S-Mexico border, according to documents filed in a California federal court Friday.
Lawyers for both sides have been trying to strike a deal since U.S. District Judge Dolly M. Gee issued a tentative ruling in April that the current family detention system violates an 18-year-old court settlement that bars immigrant children from being held in unlicensed, secure facilities.
In court papers filed in Los Angeles, both parties said they had "worked diligently to resolve these issues" but could not reach an accord, saying "further discussion would not be fruitful."
Immigrant rights lawyers who brought the lawsuit were disappointed they didn't see more willingness from the government to honor the earlier settlement, said Peter Schey, executive director of the Center for Human Rights and Constitutional Law, after the filing.
"We will continue to fight until we succeed for a policy that places these children in the least restrictive setting," he said.
Justice Department officials said they would not comment beyond the filing.
The government poured millions of dollars into two large detention centers for women and children after tens of thousands of immigrant families, mostly mothers with children from Central America, crossed the Rio Grande into Texas last summer. Many have claimed they were fleeing gang and domestic violence back home.
The centers in Karnes City and Dilley, both located south of San Antonio, recently held more than 2,000 women and children combined. A third, smaller facility is located in Berks County, Pennsylvania. All three are overseen by U.S. Immigration and Customs Enforcement but managed by private prison operators.
In her tentative ruling, Gee had found that detaining children violates parts of a 1997 settlement of an earlier case. The settlement requires that immigrant children be released only to foster care or relatives, and if they must be held, they should be kept in the least restrictive environment possible in facilities licensed to care for children.
She also said the settlement covered all children in the custody of federal immigration officials, even those with a parent, and that the new detention facilities are secure and not properly licensed for children.
The Justice Department had argued it was necessary to modify the settlement and use detention to try to deter more immigrants from coming to the border after last year's surge. Some 38,000 children arrived with their mothers on the border during the 2014 fiscal year.
The government also said it was a way to keep families together while their immigration cases were being reviewed.
Since the tentative ruling, Immigration and Customs Enforcement has vowed to make the facilities more child-friendly and provide better oversight. Last month, Homeland Secretary Secretary Jeh Johnson announced the end of long-term detention for mothers with children who present a credible case that they fear persecution in their home countries.