Ex-Rep. Grimm sentenced to 8 months in tax case involving undocumented workers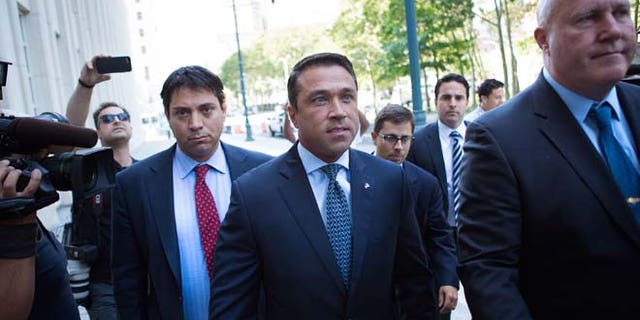 NEWYou can now listen to Fox News articles!
NEW YORK (AP) – Former New York Congressman Michael Grimm has been sentenced to eight months in prison for tax evasion in a case that involves paying immigrant workers, some of them undocumented, in cash in order to evade payroll, income and sales taxes.
The Staten Island Republican pleaded guilty late last year to aiding in the filing of a false tax return.
Federal prosecutors in Brooklyn had asked the judge at the sentencing on Friday to give Grimm at least 2 years behind bars. His lawyers had sought probation.
The 45-year-old Grimm won re-election in November but resigned after his guilty plea.
Lawyers for former U.S. Rep. Michael Grimm had asked a judge to spare him a prison term at his sentencing.
The sentencing Friday in federal court in Brooklyn before U.S. District Judge Pamela Chen followed Grimm's guilty plea late last year to aiding in filing a false tax return — a charge that stemmed from an investigation into the Staten Island Republican's campaign financing.
Prosecutors say the tax fraud began in 2007 after Grimm retired from the FBI and began investing in a Manhattan eatery called Healthalicious.
An indictment accused him of underreporting more than $1 million in wages and receipts to evade payroll, income and sales taxes, in part by paying immigrant workers, some of them in the country illegally, in cash.
In court papers asking for a sentence of probation, defense lawyers called Grimm's offense "an aberration in an otherwise remarkable life in selfless service of his country," including a stint in the Marine Corps. They also argued that losing his career in Congress was punishment enough.
Grimm "is tremendously remorseful over his offense," they wrote. "He understands that his tax violation is not something to be taken lightly, and he is anguished over his wrongdoing and will live with the shame of it the rest of his life."
Prosecutors countered by telling the judge Grimm's record of "falsely minimizing his criminal conduct and impugning anyone who questions him is indicative of an individual who has not come to terms with his own crimes."
The government papers cite a news conference last year outside the courthouse where Grimm called the case "a political witch hunt." The papers also refer to an episode in which Grimm threatened to throw a local cable TV news reporter off the balcony of the capitol for asking about the campaign financing inquiry.
Like us on Facebook
Follow us on Twitter & Instagram