San Francisco deputies union blames sheriff's immigrant policy in pier shooting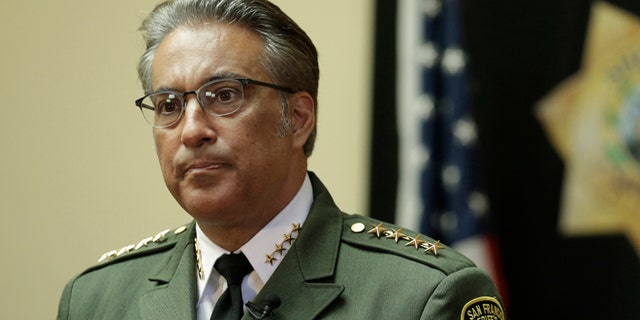 NEWYou can now listen to Fox News articles!
San Francisco Sheriff Ross Mirkarimi was hit with a formal complaint this week by the union representing his deputies, linking the shooting death of Kathryn Steinle by undocumented immigrant Francisco Sánchez to an order issued in March that barred them from communicating with federal immigration agents.
The union's complaint said that the arrest of Sánchez – a Mexican national who had been freed from custody despite a felony record and a history of deportations – showed that the policy implemented by Mirkarimi "recklessly compromises the safety of sworn personnel, citizens, and those who merely come to visit the San Francisco area," the San Francisco Chronicle reported.
The union has called on Mirkarimi to correct his "flawed philosophy" and rescind the memo he issued on March 13 that prohibited deputies from passing immigration information on to federal agents, including citizenship status, booking and arrest documents, and release dates.
In an attempt to overrule Mirkarimi's order, San Francisco Mayor Ed Lee sent him a note earlier this week in which he said that "[l]aw enforcement may notify federal officials when a particular individual is set for release in certain circumstances."
Sánchez's alleged murder of Steinle has reinvigorated the debate over so-called sanctuary cities in the in U.S., which are towns that have policies designed to shelter undocumented immigrants, usually by not allowing police or municipal employees to inquire about an individual's immigration status.
In response to Mayor Lee's letter, Mirkarimi called for a Board of Supervisors committee meeting to achieve clarity on this issue.
"Finger-pointing around this tragedy serves no purpose other than election year politics," Mirkarimi wrote, according to SF Weekly. "Your request to rescind the policy and require the SFSD to contact federal immigration officials would eviscerate the city's Due Process For All Ordinance, an ordinance I supported and which you signed into law."
Mirkarimi added that the only reason that his department should notify federal immigration authorities of a detainee's release would be to facilitate federal custody of that detainee.
"This would completely circumvent the requirements and intent of the Sanctuary City Ordinance, the Due Process For All Ordinance and lead to unconstitutional detentions," he said.
San Francisco is one of dozens of cities and counties across the country that do not fully cooperate with federal immigration authorities. The city goes so far as to promote itself as a "sanctuary" for people in the country illegally.
Advocates of more lenient immigration policies say sanctuary programs are not all the same, and that many draw the line at dangerous undocumented immigrants.
Many such programs are based on the concept that city officials will not report undocumented people to immigration authorities when they come across them, say, as they're seeking information or a service that they're allowed to receive.
Like us on Facebook
Follow us on Twitter & Instagram