Sestak Repeats Job Offer Allegation, Issa Seeks Details of Alleged 'Bribe'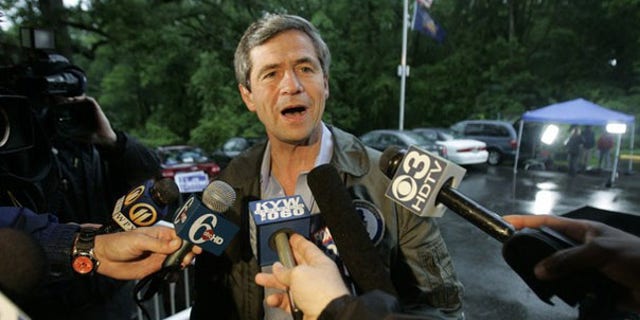 NEWYou can now listen to Fox News articles!
A top-ranking Republican over the weekend accused the White House of handing a "bribe" to Rep. Joe Sestak, as the Pennsylvania congressman held firm to his claim that the Obama administration offered him a job to sit out the Senate primary race against Sen. Arlen Specter in Pennsylvania.
Rep. Darrell Issa, R-Calif., ranking Republican on the House Oversight and Government Reform Committee, is threatening to file an ethics complaint if Sestak doesn't provide more details about the alleged job offer, including the name of the person who offered it.
Sestak repeatedly dodged questions about the incident in an interview Sunday on NBC's "Meet the Press," but was willing to repeat the allegation.
"I was offered a job. I answered that," he said.
Sestak, who ultimately stayed in the race and last week beat Specter for the Democratic nomination, has avoided discussing the job offer allegation since he first made the claim in an interview in February.
In a separate interview, White House Press Secretary Robert Gibbs said that lawyers reviewed conversations and found "nothing inappropriate."
"I'm not a lawyer. But lawyers in the White House and others have looked into conversations that were had with Congressman Sestak. And nothing inappropriate happened," Gibbs told CBS' "Face the Nation."
"I'm not going to get further into what the conversations were. People that have looked into them assure me that they weren't inappropriate in any way," he said.
Issa slammed the White House in a statement and online video.
"For months, a United States congressman has stated that the White House offered him a job in exchange for not running in an election -- we call this a bribe," Issa said, accusing the administration of trying to "conceal from the American people the truth" about what happened.
Republican National Committee Chairman Michael Steele said if Sestak were offered a job, it would behoove the White House to "either corroborate that or call him a liar."
"Is it proper, ethical and legal for the White House to try to get a sitting member of Congress out of a race because they have other plans? I don't know. The White House has to answer the question," Steele said.
Gibbs said Republicans continue to "dredge this up" because Pat Toomey, the GOP nominee challenging Sestak, is "already behind in a very important Senate race."
The latest Rasmussen Reports poll taken one day after Tuesday's primary election showed Sestak leading Toomey 46-42 percent with a 4.5 percent margin of error among 500 likely voters.