Sanders struggling to get his message out to Latino and black voters, experts say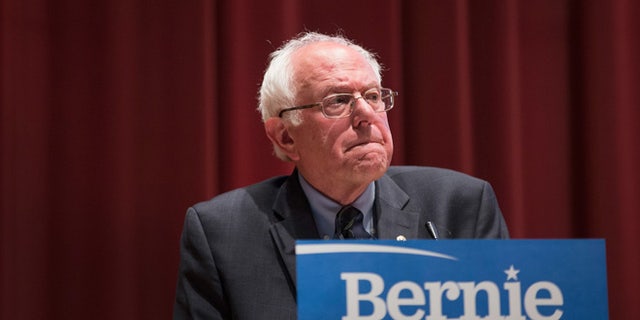 NEWYou can now listen to Fox News articles!
Vermont senator and presidential candidate Bernie Sanders may be seeing a surge in popularity in the early primary state of New Hampshire, but that doesn't appear to be translating with either Latino or African-American voters.
A notoriously small crowd gathered last week during his speech at the National Association of Latino Elected Officials (NALEO), appearing to indicate that even when overwhelmingly popular in the white Granite State and throughout the generally progressive state of New England, Sanders still has a good deal of work to when it comes winning over Latino voters.
"His name recognition in the Latino community is somewhere in between zero and extremely low," Matt Barreto, a pollster who focuses on Latino voters, told the Los Angeles Times. "And you're not going to win an election without Latino support."
The outspoken lawmaker, who is 73, has spent his lengthy political career campaigning for votes in Vermont – a state that is 94 percent white – and has little experience in focusing a campaign on minority issues. The oldest presidential candidate to so far jump into the fray so far, many observers say that he will likely have trouble appealing to an overwhelming younger Latino electorate in key swing states like Nevada and Colorado.
"If your only significant constituency is older white voters, that'll be good in Iowa and New Hampshire, but when you hit Nevada and South Carolina you're in another world," Democratic strategist Bill Carrick said. "If you're going to be the nominee, you're going to have to do pretty well among Latino, African American voters, women, single women and millennials. That's the challenge for Bernie Sanders — to become more than a niche candidate and become a candidate with a broad coalition of support."
Despite the low attendance last week during his speech at NALEO, Sanders was well received by the crowd and he addressed the immigration head-on after being previously criticized for focusing too much on other issues. The self-described socialist painted his views on the issue through an economic spectrum, while also giving a personal anecdote about his own upbringing in an immigrant household – a departure for a candidate who usually forgoes stories about his past.
"We cannot continue to run an economy where millions are made so vulnerable because of their undocumented status," Sanders said. "Who benefits from this exploitation?"
Along with Latinos, Sanders also has his work cut for him with the African-American community, as - despite his work in the civil rights movement and his friendship with Jesse Jackson - even Sanders admits he is little known among the demographic compared to his rival Hillary Clinton.
In the last week, Clinton has not rested on her laurels as she has spoken forcefully about race relations and gun control in the wake of the deadly church shooting in Charleston, S.C. and she visited a black church on Tuesday near Ferguson, Mo., where the killing of an unarmed black man by a white police officer in August ignited protests nationwide.
Sanders, on the other hand, has derided "the ugly stain of racism that still taints our nation," but he has yet to take the subject on in a forceful way.
"We're reaching out, but it's no secret that Bernie represents a state that is heavily Caucasian, and his decades of work on issues of importance to African-Americans aren't known amid the national conversation on race that is underway," Jeff Weaver, Sanders's campaign manager, told the New York Times. "I don't think it's presumptuous of him to speak out on these issues. And his message — the need for more good-paying jobs and opening up higher education regardless of wealth and family background — will have strong appeal with African-Americans and many other voters."
Sanders ability to appeal to Latino and African-American is seen by many as a test of his relevance as a candidate and whether or not he can be a real challenge to Clinton come nomination time or will be just someone helping shape the dialogue during the Democratic debates.
A recent CNN poll found that just 5 percent of nonwhite Democratic voters said they were likely to support Sanders compared with 65 percent who favored Clinton (in 2008 Clinton beat up 2-to-1 in garnering the Latino vote.)
Clinton has already made concerted efforts in going after Latino voters - laying out her immigration plan last month at a Las Vegas high school, hiring well-known "Dreamer" Lorella Praeli to work on her campaign and sending her campaign's political director, Amanda Renteria, to NALEO to shake hands and make contacts ahead of Clinton's speech.
While Clinton has broadened her support base and her campaigning to minority groups, Sanders is perceived as being the candidate for the tie-dyed, white Vermont liberals.
"The Bernie Sanders voter is still a Volvo-driving, financially comfortable liberal who is pretty much white," said pollster Paul Maslin.
Like us on Facebook
Follow us on Twitter & Instagram