Republican State Senator Looks Into Potential Run for Rep. Giffords' Congressional Seat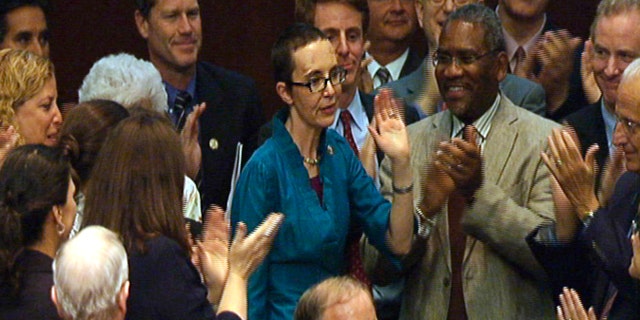 NEWYou can now listen to Fox News articles!
PHOENIX – A Republican legislator in Arizona has formed an exploratory committee for a potential run next year for the congressional seat now held by Democratic Rep. Gabrielle Giffords.
State Sen. Frank Antenori of Tucson, the first potential candidate to publicly declare an interest in running for the southern Arizona post, said Thursday that he won't make a decision on whether to run until after the state determines new boundaries for the congressional district, which could be redrawn to make it heavily Republican. He's also trying to gauge his prospects for raising enough contributions and support from voters.
Giffords hasn't publicly said whether she'll seek re-election.
Earlier this month, she cast her first vote in Congress since the Jan. 8 shooting that wounded her and 12 others and killed six people, including one of her aides. She spent months in rehab to recover from the head wound she suffered in the shooting before returning to Washington for the vote on the debt ceiling deal.
If Giffords decides to run again, she will have plenty of goodwill and money at her disposal. Democratic colleagues have held several fundraisers on her behalf in recent months and many are also donating to her campaign. As of June 30, they had helped her campaign generate more than $639,000 in donations.
According to the latest quarterly report filed with the Federal Election Commission, Giffords' campaign has nearly $788,000 in the bank.
Antenori said Republicans aren't going to wait until the May 15 deadline for submitting nominating petitions for Giffords to make an announcement. He said he won't decide whether to run until January or February.
He also accused the Democratic Party of testing the waters with potential candidates and of creating a perception that Giffords is running for the office as a way to blunt any Republican efforts to win the seat.
"You are not going to use this strategy for a political purpose and try to keep Republicans out of the race until May," Antenori said. "Ain't gonna happen."
The party isn't shopping around possible candidates for the post, Arizona Democratic Party spokeswoman Jennifer Johnson said. Also, the decision on whether Giffords will run is for the congresswoman and her family to make, she said.
"It says a lot about Mr. Antenori that he has now chosen to push conspiracy theories instead of seeing this difficult situation for what it is," Johnson said.
Antenori lost a 2006 run for the congressional post, finishing second to last in a primary field of five Republicans. He went on to win a 2008 state House race and crushed his Democratic opponent in a 2010 race for the state Senate.
Before entering politics, Antenori served in the Army in Afghanistan and Iraq before retiring from the military in 2004. He wrote a book about his special forces team's role in a battle in northern Iraq in April 2003.
Giffords campaign chairman Michael McNulte didn't immediately returned calls placed Thursday.