Obama offers wish list for recovery, few answers for tackling debt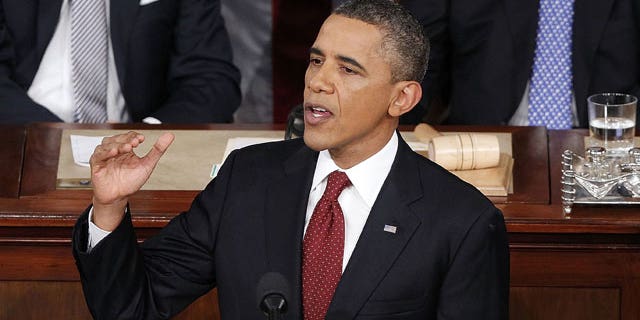 President Obama's State of the Union blueprint for economic recovery relies heavily on government intervention and tax hikes on the wealthy, but will likely do little to lower the temperature in Washington or gain traction in an election year, say lawmakers and analysts who wonder why the president didn't address the most critical factor for growth -- eliminating debt.
President Obama heads out on the road Wednesday to visit battlegrounds states where he will try to sell his agenda, and his reelection bid, outlined in a lengthy address to Congress and the nation on Tuesday night.
In an ambitious speech that focused on manufacturing, clean energy investment and educational training as economic opportunities, the president said he wants to return America to prosperity by eliminating inequalities that he claims favor the rich at the expense of the rest. He prioritized extending a payroll tax cut and suggested raising the rates on wealthy Americans to pay for it.
"Right now, we're poised to spend nearly $1 trillion more on what was supposed to be a temporary tax break for the wealthiest 2 percent of Americans," the president said. "Do we want to keep these tax cuts for the wealthiest Americans? Or do we want to keep our investments in everything else -- like education and medical research; a strong military and care for our veterans? Because if we're serious about paying down our debt, we can't do both."
But with an entitlement system that eats away more than 40 percent of the government's annual spending and a $15.2 trillion debt that is expected to rise this week after a Senate vote to lift the debt ceiling once more, some fiscal watchdogs are wondering whether the president is serious about economic recovery.
"The president missed an opportunity to throw down the gauntlet to Congress on the debt and demand a large, bipartisan debt reduction plan this year," said Maya MacGuineas, head of the Committee for a Responsible Federal Budget. "We've punted on this issue for far too long, and the longer we wait the more difficult it will be to control rising debt and the closer we get to a potential crisis."
"Where's the guts? Where's the hard stuff? Where's the beef?" Alan Simpson, co-chairman of the president's commission on debt and deficits, asked on Fox Business Network.
In his remarks, Obama said he wanted to use half the savings from ending the wars in Iraq and Afghanistan for debt reduction -- and take the other half and use it for funding big-idea construction projects like the Hoover Dam.
Only once in his speech did the president pay lip service to entitlement reform.
"I'm prepared to make more reforms that rein in the long term costs of Medicare and Medicaid, and strengthen Social Security, so long as those programs remain a guarantee of security for seniors," he said. "But in return, we need to change our tax code so that people like me, and an awful lot of members of Congress, pay our fair share of taxes."
Obama sets out this week to Iowa and Arizona to promote manufacturing; to Nevada and Colorado to discuss energy; and to Michigan to talk college affordability, education and job training.
But the details may be difficult to sell. The president called on lawmakers to change tax law to reward those that return to the U.S. from overseas but punish companies that move offshore. He also called for a minimum tax on multinational firms.
He announced a financial fraud enforcement task force to be led by state attorneys general and federal entities to investigate misconduct contributing to the financial crisis.
"We will not go back to an economy weakened by outsourcing, bad debt and phony financial profits," he said.
Obama committed to opening some of the potential offshore oil and gas resources but called for an all-in strategy that placed heavy emphasis on "clean" energy like wind and high-tech batteries.
"What he did defend was the Solyndras of the world, and he intends to have more Solyndras coming," Rep. Michele Bachmann, R-Minn., said of the failed solar energy company that received more than $500 million in federal funding.
Calling the speech a "fan dance," Bachmann, in her first television interview since dropping out of the Republican presidential race, told Fox News' Greta Van Susteren that the president's proposal to have the military buy clean energy to distribute to homeowners is "essentially socialism."
"He was very proud of the fact that the federal government will be the producer of green energy and also the consumer of green energy," she said.
On education, the president pushed measures for college affordability, including taking federal aid from colleges that don't keep tuition down, and he urged Congress to make permanent a tuition tax credit worth $10,000 over four years.
The language hit the right notes for his supporters.
"We were also encouraged to hear the president talk so much about clean energy as Colorado is leading the nation when it comes to renewable energy research and development," said Colorado Gov. John Hickenlooper.
"The pillars of President Obama's agenda are consistent with the American values of fairness, opportunity and responsibility. ... America's prosperity only goes as far as the success of our workers, the education of our children, the growth of our small businesses and the economic security of our middle class," said House Democratic Leader Nancy Pelosi.
"We can't make it in America if we don't have anything that is made in America," said Rep. Alcee Hastings, D-Fla.
But Republicans said the president is neglecting the heart of the U.S. economy.
"In three short years, an unprecedented explosion of spending, with borrowed money, has added trillions to an already unaffordable national debt," said Indiana Gov. Mitch Daniels in the GOP response to the address. "And yet, the president has put us on a course to make it radically worse in the years ahead. The federal government now spends one of every four dollars in the entire economy; it borrows one of every three dollars it spends. No nation, no entity, large or small, public or private, can thrive, or survive intact, with debts as huge as ours."
"We're now three years into his presidency and there's no plan to save Social Security, there still no plan to save Medicare and there's still no serious plan to reduce the national debt and none of these things have been addressed," said Sen. Marco Rubio, R-Fla.
Bipartisan Policy Center President Jason Grumet said getting the economy on track is the nation's greatest challenge, and the president did offer a short list where Congress can cooperate. But Grumet said the task is to find a path to get the country out of debt.
"We continue to believe that a payroll tax holiday is an efficient way to spur short-term economic growth and job creation. Still, a bipartisan and long-term approach for fiscal restraint and deficit reduction is needed, and any comprehensive debt reduction package must include entitlement and broad-based tax reforms," he said.