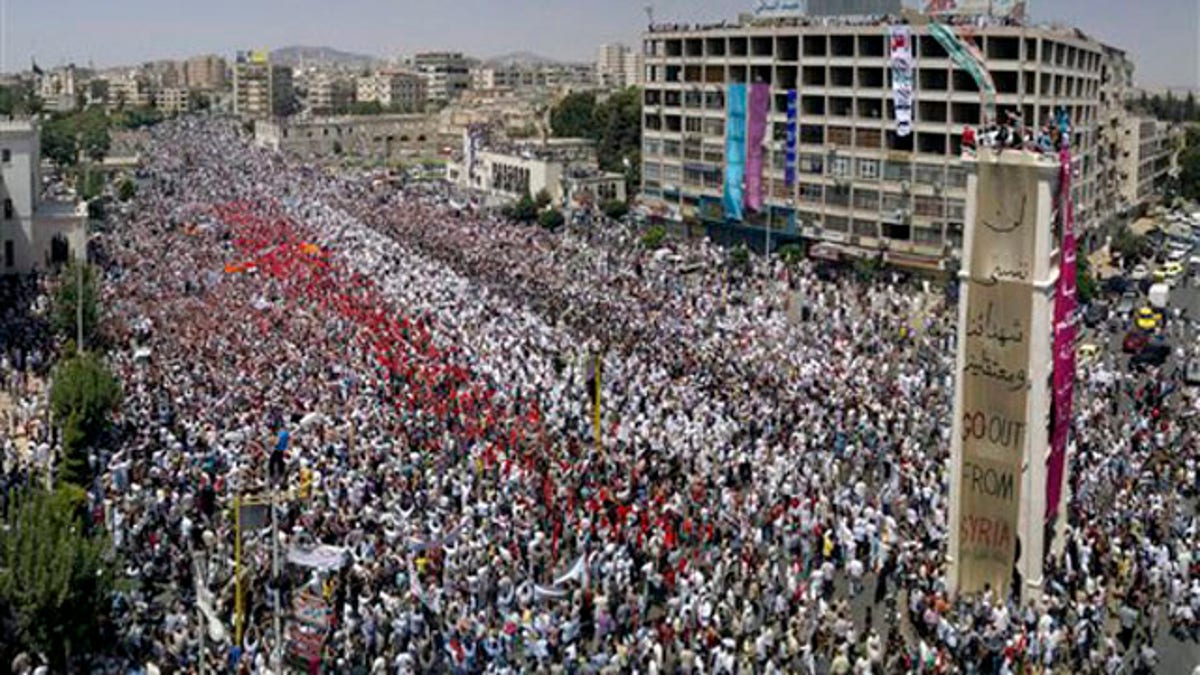 The Obama administration is under pressure to rethink its approach to Syria, as President Bashar Assad's forces mow down protesters in one of the bloodiest confrontations since the spring.
President Obama's immediate response to the crackdown Sunday that left dozens dead was a "strongly worded" statement that condemned the killings. The president said he was "appalled" by the "horrifying" reports out of the restive city of Hama, calling Assad "incapable" of addressing the legitimate grievances of his people and vowing to increase pressure.
The statement reflected the limits to U.S. power when it comes to Syria: Unlike in Libya, where the U.S. and its allies were able to attack an isolated country with the blessing of other Arab nations, Syria is much more interconnected to the Middle East. An attack on Syria could upend the region.
But while one or two prominent lawmakers have suggested military force be on the table, others have urged the administration to do everything short of that to pressure Assad to step down. Though the administration has pushed new sanctions against the regime and condemned its behavior, officials and analysts say the United States can certainly do more.
"It has been more than two months since President Obama said that Assad had a choice -- either lead a transition to democracy or get out of the way. It is beyond any shred of doubt that Assad and his regime are unwilling to reform and intend to use violence to beat the Syrian people into submission," Sens. John McCain, R-Ariz., and Joe Lieberman, I-Conn., said in a written statement Monday.
They urged the administration and its international partners to "demand Assad leave power" and mobilize "the full diplomatic and economic weight of the community of nations to support the Syrian people."
To this point, Obama has not explicitly called for Assad to step down.
David Schenker, a former Defense Department aide who worked on Syria in the George W. Bush administration, said that if the president is to take that step, he'd better be confident in the outcome.
"U.S. credibility is not enhanced by saying that a dictator has to go and then the dictator being in place four months later, a la Libya," said Schenker, now the director of the Program on Arab Politics at The Washington Institute for Near East Policy.
He said there are plenty of other steps the administration could take. He didn't predict much would come out of the U.N. Security Council, but he said a "coalition of the willing" could be assembled to enact tough sanctions on the country's oil and gas sector -- a move that could pry the business elite away from the regime. And he encouraged Secretary of State Hillary Clinton to meet with the Syrian opposition and said the U.S. and its allies could send a signal by pushing for an albeit unlikely referral to the International Criminal Court.
"There are a number of things that the administration can do to help the people of Syria help themselves," he said.
The president is weighing his options.
He met Monday in Washington with U.S. Ambassador to Syria Robert Ford. An official statement said Obama thanked Ford for his "extraordinary service" at a "very challenging time," without detailing what they discussed in terms of the next steps.
State Department spokesman Mark Toner said Monday that "sanctions on oil and gas" remain an option and were being discussed Monday at the Security Council.
"We've done a great deal already. We're looking at other steps," he said. "These can't be enacted overnight ... but we're certainly looking at what we might do next."
Toner also said it's "clear" that Assad is "the cause of Syria's instability and not the key to its stability."
As for why the administration can't respond to Assad's violence with the force the U.S. and its allies employed in Libya, Toner cited a couple reasons. He said there was an "immediate threat" in Libya and suggested the "international consensus" against Syria is not as strong now as it was with Libya.
Schenker said Syria is also able to "blackmail" other countries into leaving it alone. The government's support of Hezbollah and ties to other extremist elements means the regime could wreak havoc in the surrounding nations if threatened, he said.
But the Obama administration may be reaching the limits of rhetoric, as Toner noted.
"It's hard to imagine how our message could get much stronger to Assad and his regime," Toner said, pointing to Obama's "strongly worded statement" on Sunday.