Mexican Elections: Lopez Obrador Refuses to Recognize Results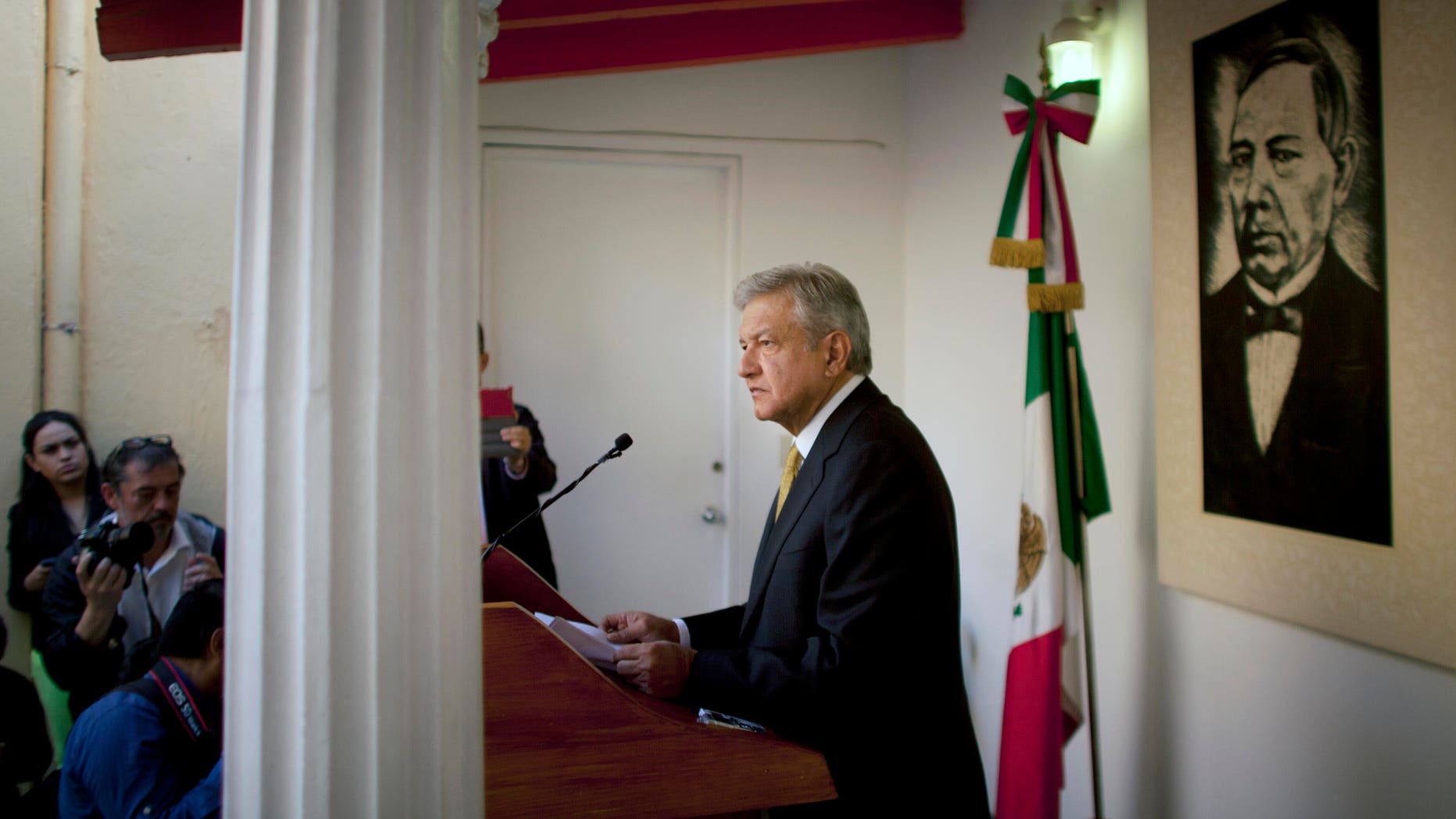 MEXICO CITY – Leftist presidential candidate Andres Manuel López Obrador refused Friday to recognize the results of Mexico's presidential election, as questions abounded whether he will launch street protests like those he used to shutdown central Mexico City after losing the 2006 vote.
López Obrador says a federal electoral tribunal made an illegitimate ruling Thursday evening that rejected the leftist's allegations of vote-buying and other campaign violations in favor of Enrique Peña Nieto, the candidate of the former ruling Institutional Revolutionary Party. López Obrador says he is calling a peaceful protest for Sept. 9 in the Zocalo, the historic plaza in the heart of downtown Mexico City.
"I am telling the people of Mexico that I cannot accept the judgment of the electoral tribunal that declared the presidential election valid," López Obrador told a news conference. "The elections were not clean, free and genuine. As a result, I will not recognize an illegitimate power that's emerged as a result of vote-buying and other grave violations of the constitution and the law."
It was not immediately clear how many people he will call into the streets and what effect the protest will have. He says he wants the protest to respect the law, and he did not indicate that there would be a repeat of the blockades he launched in 2006.
López Obrador, a popular former mayor of Mexico City, was able to call hundreds of thousands of people into the streets for campaign rallies, and he retains a large and fervent base of support in the capital. But Peña Nieto's margin of more than 3 million votes was far wider than the few hundred thousand votes that cost López Obrador the last presidential vote, and many opponents' outrage at Pena Nieto's win appears to have largely faded since the July 1 vote.
Confirmation of the PRI's victory ends its 12-year absence from Mexico's highest office, which it held without interruption from 1929 to 2000. In past decades, the party engaged in widespread coercion of its opponents, monopolizing virtually every institution in the country. The party says it has reformed and handed control to a new generation of democratically minded young technocrats with a vision of modernizing Mexico.
Peña Nieto was expected to formally accept the status of president-elect as early as Friday, officially beginning the country's transition to an administration that has promised to focus on fiscal reform, infrastructure improvements and a new emphasis on preventing violence from affecting ordinary Mexicans as a result of the country's six-year militarized offensive against drug cartels.
"Even if they keep attacking us, accusing us of being bad losers, crazy, messianic, fools, drunk with power and other niceties, we prefer these insults to validating or forming part of the unjust, corrupt regime that is destroying Mexico," López Obrador said.
By late morning Friday, there were a few scattered protests around the capital by López Obrador sympathizers, including a brief blockage of highway toll booths by a group of students, but little evidence of widespread mobilization.
López Obrador alleged Peña Nieto engaged in widespread vote-buying and campaign spending excesses but Mexico's highest election court voted unanimously Thursday to legally dismiss his challenges. The unanimous ruling by the seven-member Federal Electoral Tribunal paves the way for the old ruling party known as the PRI to return to power after losing the presidency for the first time in 71 years in 2000 elections.
The accusations centered on hundreds and possibly thousands of pre-paid gift cards that shoppers at a Mexican grocery store chain said they were given by Peña Nieto's party before the election. López Obrador's Democratic Revolution Party showed reporters thousands of such gift cards, but never demonstrated convincing evidence that millions of votes had actually been swayed by corrupt practices.
The PRI said in a statement Friday morning that the ruling by the seven electoral magistrates, who are nominated by Mexico's Supreme Court and confirmed by Congress, "has ended the contentious and combative phase of the federal electoral process and has fully demonstrated the legitimacy of Enrique Peña Nieto's victory at the ballot box."
Peña Nieto commented in his Twitter account that "now is the time to start a new stage of work, for the good of Mexico."
Before the vote in their nighttime session, all of the justices said they did not think supporters of López Obrador had submitted convincing evidence of the alleged abuses.
"Mexico has a president elected by the people, in the person of Enrique Peña Nieto," said Justice Salvador Nava.
The justices said some of the evidence submitted was hearsay, or unclear. For example, they said the evidence included gifts allegedly given out by the PRI, without proof that was where they came from or that the gifts had been given to influence votes.
Ricardo Monreal, López Obrador's campaign manager, said the justices "are acting like a gang of ruffians."
Monreal complained that the justice wanted his coalition "to supply not just the evidence, but the victims and criminals" as well.
For much of his campaign, López Obrador tried to move away from the angry, combative image that many Mexicans held of him after his supporters blockaded much of downtown Mexico City for weeks after his narrow loss in 2006. He adopted the slogan "Abrazos, No Balazos," or "Hugs, Not Bullets," put forth a warmer persona, a more business-friendly platform and an anti-crime program that relies largely on increased jobs and education programs.
López Obrador did surprisingly well, gaining 31 percent of the vote to Peña Nieto's 38 percent after months of polls showed the PRI candidate with a lead as wide as 20 percentage points.
The unexpected closeness of the race helped fuel López Obrador's lengthy post-election fight to invalidate the results, with him and his backers accusing the PRI camp of a range of violations including the vote-buying with both gift cards and, in rural areas, farm animals, and participating in an international campaign finance money-laundering scheme.
The court's ruling also came as electoral authorities are still investigating whether Peña Nieto's campaign had exceeded campaign spending limits. The justices said those investigations can continue, but wouldn't be grounds for overturning the vote.
Based on reporting by the Associated Press. 
Follow us on twitter.com/foxnewslatino
Like us at facebook.com/foxnewslatino