Meek Wins Democratic Senate Primary in Florida, Setting Up 3-Way Faceoff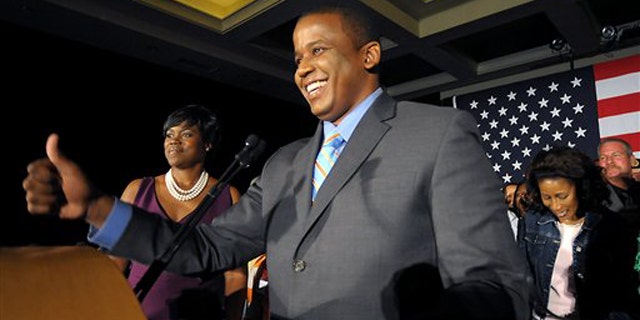 Rep. Kendrick Meek beat real estate billionaire Jeff Greene for the Democratic Senate nomination in Florida on Tuesday, setting up a dramatic three-way race for an open seat in November.
Meek will face off against GOP nominee Marco Rubio and Florida Gov. Charlie Crist. The governor left the Republican Party in April to run as an independent after facing the conservative, Tea Party-backed challenge from Rubio. Crist is trying to prevent his name from being added to the list of establishment candidates passed over in an anti-incumbent year.
But in the Democratic primary Tuesday, the politically established Meek clinched a decisive victory over the upstart Greene. With 99 percent of precincts reporting, Meek was leading Greene 57-31 percent.
He continued to portray himself as the underdog -- both in the primary and in the general election. In his victory speech Tuesday, Meek pledged a tough fight in November against "two conservative candidates ... that have similar records."
"This campaign has the strength, the integrity, the will and the desire to win against the odds," Meek said, pledging to expand access to health care and protect the environment if elected.
Meek, after struggling for a period in the primary, widened his lead in the polls in recent weeks as he aggressively went after Greene for making millions by betting against the housing market. A series of news reports highlighting Greene's personal life, including his friendship with boxer Mike Tyson, didn't appear to help either.
Though Greene far outspent Meek on attacks ads, casting the four-term congressman as a corrupt incumbent, Meek enjoyed support from President Obama, former President Bill Clinton and Bob Graham, Florida's respected former senator and governor.
Polls forecast a tight race for November, though Meek does indeed start as the underdog. A recent Rasmussen poll showed Rubio leading Crist by 5 points, with Meek trailing in a hypothetical general election matchup.
As expected, Rubio secured the Republican nomination Tuesday in the absence of significant opposition.
In his victory speech Tuesday night, Rubio described the race as a fight for the integrity of America -- one whose military is a global force for good, that creates opportunities for its people and that controls its government spending. If not, Rubio said, the United States will lose its "exceptionalism" and "face a Greece-like day of reckoning."
Rubio, in an interview with Fox News, disputed the notion that his positions were overly conservative.
"Our positions are mainstream positions," he said. "It's my opponents, it's Washington, D.C., that's far outside the mainstream."
Crist, in a written statement, pledged a tough campaign ahead.
"I will take the best ideas -- whether they come from Democrats or Republicans -- to get results for the people of Florida, because the only way to craft common sense solutions to our problems is to reach across party lines -- to listen and work together," he said. "Now that the primaries are over, it is clear that I am the only candidate in this race who can do that, who has a track record of doing it, and if I win, will have the mandate from the people to do it."
The other closely watched race in Florida was the Republican gubernatorial contest, where health care executive Rick Scott narrowly defeated state Attorney General Bill McCollum.
Alex Sink, Florida's chief financial officer, easily won the Democratic nomination.
Primaries were being held elsewhere Tuesday in Arizona, Alaska and Vermont. Oklahoma held Republican runoffs.