McConnell, Grimes appear together at Kentucky's rowdy Fancy Farm political event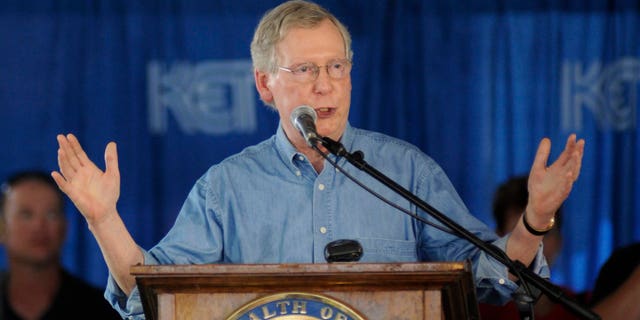 Kentucky's annual Fancy Farm Picnic, a major political event in the state that unofficially starts the fall campaign season, will be closely watched Saturday as Senate Minority Leader Mitch McConnell and Democratic challenger Allison Lundergan Grimes appear side by side in their tight race that will help decide control of the Senate.
McConnell and Grimes will each give speeches before the expected crowd of hecklers trying to move them off their talking points.
The event, which includes delicious barbecue, marks only the second time the candidates have shared the same stage.
Their scripted, crowd-controlled campaigns could go anywhere during their appearances Saturday along with other political speakers at the 134th annual picnic, a major draw for political types. McConnell is in the toughest re-election race of his career, making this year's event even bigger than usual.
An averaging of polls by the nonpartisan website RealClearPolitics shows McConnell, the GOP's highest ranking senator, leading by 2.5 percentage points.
Nominally a fundraiser for a small Roman Catholic church in western Kentucky, the two-day picnic in the tiny town of Fancy Farm is a throwback to the days before television, when stump speeches were the candidates' main vehicle to reach voters.
It has been held on the first Saturday in August since the mid-1960s.
"There used to be actual voters in the audience you could persuade to be for you. But in the last 20 years or so, it's just turned into who can bring the most people and scream the loudest and come up with the craziest antics," said veteran Kentucky Democratic political consultant Danny Briscoe said. "It's turned into, I think, a circus."
McConnell, a prolific fundraiser and fierce campaigner, is expected to continue to try to connect Grimes with President Obama, who remains unpopular in Kentucky despite Democrats having a wide advantage over the GOP in registered voters.
His campaign has focused mostly on highlighting how a vote for Grimes would be a vote for Senate Majority Leader Harry Reid, D-Nev., while McConnell would continue to fight against the president's policies.
Obama lost the state in the 2012 presidential race, garnering only 37.8 percent of the vote to 60.5 percent for Republican nominee Mitt Romney.
Grimes, Kentucky's secretary of state, is expected to hammer McConnell on pocketbook issues, including his opposition to raising the federal minimum wage and his vote to block a bill earlier this year that would have allowed some college students to refinance their student loans.
Grimes, who father, Jerry, is a former Kentucky Democratic chairman and state representative, has portrayed herself as an independent "Kentucky woman" who won't be beholden to a Democratic president.
Both candidates have tried to portray themselves as champions of the state's coal industry, which has faced more regulatory pressure under the Obama administration.
Issues aside, the candidate' main goal may be not to lose their cool in the intimidating atmosphere and say something that could come back to haunt them.
"It don't really make a lot of difference what you say at Fancy Farm. It's all theater," said state Supreme Court Justice Bill Cunningham, who is the master of ceremonies of the event. "No one ever wins elections on what they say at Fancy Farm, but they may have come close (to losing)."
The Associated Press contributed to this story.