Issa Presses White House to Disclose Officials' Campaign Travel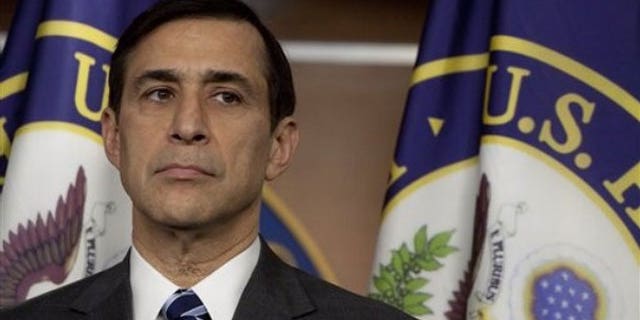 The top Republican on the House Oversight and Government Reform Committee is calling on the White House to make public all taxpayer-funded travel by administration officials on behalf of Democratic candidates and fully disclose any possible efforts to manipulate elections.
Rep. Darrell Issa, R-Calif., fired off a letter Thursday to 21 Cabinet secretaries and department heads -- including Secretary of State Hillary Clinton -- requesting the political office disclose travel costs for campaign-related trips by White House officials.
In his letter, Issa cited a 2008 report by House oversight committee chairman Rep. Henry Waxman, D-Calif., on the Bush administration's aggressive use of the political office for campaign travel.
Waxman had reportedly urged the White House to eliminate the office but President Obama opted to keep it, Issa noted.
"The swing-state stops are just one element of a West Wing political operation that has preserved many practices of preceding ones," he wrote.
The California Republican also sent a letter to White House Counsel Robert Bauer, requesting that the administration disclose a "full and complete list of all elections in which the White House engaged in efforts to persuade specific candidates to drop election bids."
The request comes after the White House acknowledged that Deputy Chief of Staff Jim Messina suggested an administration job for Senate candidate Andrew Romanoff if he dropped his bid to run in the Colorado Democratic primary. It also comes after an attempt to persuade Rep. Joe Sestak, D-Pa., not to challenge five-term incumbent Sen. Arlen Specter, D-Pa., in last month's primary election. The White House claims that former President Bill Clinton suggested Sestak consider an advisory board job in exchange for dropping out of the race. Sestak defeated Specter for the Democratic nomination.
Issa called on the White House to disclose whether a job or "any other thing of value meant to entice a candidate to withdraw from or not to enter the race was offered."
"The American people should not have to rely on candidates and party leaders who have been on the wrong end of inappropriate and unlawful job offers to disclose those offers months after the fact," Issa wrote. "Instead, the White House should honor the president's commitment to making his administration the most open and transparent in history by cataloging and self-reporting any primary election upon which it attempted to exert influence."