Intervention in Colorado Race Could Cast Pall Over Obama Transparency Message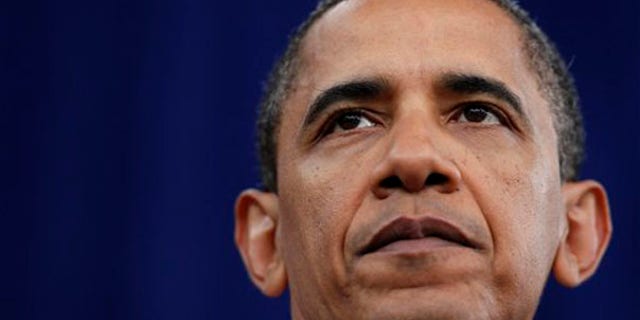 President Obama could be losing the mantle of transparency he claimed as a candidate following the latest admission by the White House that it floated the potential for an administration job to a Colorado politician while trying to get him out of a primary race against an incumbent U.S. senator.
The White House denies making an explicit job offer. Press Secretary Robert Gibbs said in a statement Thursday that Deputy Chief of Staff Jim Messina contacted former Colorado House Speaker Andrew Romanoff last fall to see if he was still interested in a USAID job for which he had previously applied and to determine "if it was possible to avoid a costly battle between two supporters."
Romanoff is challenging Sen. Michael Bennet, whom the administration supports, in the Democratic primary.
The White House admission comes less than a week after the White House acknowledged it had solicited former President Bill Clinton to see whether Rep. Joe Sestak would drop his ultimately successful primary bid against Sen. Arlen Specter in Pennsylvania.
Some asked whether more tales of White House political intervention would soon surface, and they accused Obama of turning his back on his own commitment to changing the way Washington works.
"Clearly, Joe Sestak and Andrew Romanoff aren't isolated incidents and are indicative of a culture that embraces the politics-as-usual mentality that the American people are sick and tired of," Rep. Darrell Issa, R-Calif., who led the charge to expose and investigate the Sestak matter, said in a written statement. "Whatever the Obama brand used to stand for has been irrevocably shattered by the activities going on inside Barack Obama's White House."
Democratic consultant Pat Caddell, who supported Romanoff and said he has spoken with him about the White House intervention, told FoxNews.com that the administration's involvement in that race was much more "personal" than in the Pennsylvania race.
Caddell said it was common knowledge in Colorado that White House Chief of Staff Rahm Emanuel pushed for Bennet's appointment to fill Ken Salazar's seat when he left to become interior secretary. He said that when Romanoff refused to play ball with the White House, the administration unleashed the power of its political machine against him.
"This was very dirty politics," Caddell said. "There's a lot more here than meets the eye. ... They were trying to bribe him out of the race."
Republicans were quick to claim that the Colorado race intervention did not square up with Obama's rhetoric as a candidate. Obama's campaign stance abhorred patronage and deal-making.
"We must change Washington," he said in a September 2008 speech in Green Bay, Wis.
"The days of Michael Brown, Arabian horse judge, are over," he said in the prepared remarks for a June 2007 speech in Manchester, N.H., referring to the former Federal Emergency Management Agency director as he decried the Bush administration as being the "most politicized White House in history."
Obama's ethics policy on hiring stated that "every official will have to rise to the standard of proven excellence" and that new hires would have to affirm that they were not offered a job "solely on the basis of political affiliation or contribution."
The National Republican Senatorial Committee slammed the administration Wednesday for its involvement in the Colorado race.
"Few could have imagined that installing the Democrats' infamous Chicago political machine in the halls of the West Wing was the type of 'change' President Obama promised to bring to Washington," the statement said.
Romanoff on Wednesday night released a copy of an e-mail in which Messina described three federal international development jobs that might be available to him if he were not challenging Bennet for the Democratic nomination.
Click here to read the e-mail from Messina to Romanoff.
But he stood by the administration's claim that no job was offered.
"He added that he could not guarantee my appointment to any of these positions," Romanoff said in a statement. "At no time was I promised a job, nor did I request Mr. Messina's assistance in obtaining one."
Earlier in the day, a White House official said no formal offer was ever made and insisted there was nothing inappropriate in the contacts -- language similar to the explanation given last week when the White House admitted it orchestrated a job offer to Senate candidate Joe Sestak in the Pennsylvania primary.
"Mr. Romanoff was recommended to the White House from Democrats in Colorado for a position in the administration," White House Deputy Press Secretary Bill Burton said. "There were some initial conversations with him but no job was ever offered."
Last September, Romanoff told the Denver Post he declined the offer. The White House denied to the paper that it had made any deal. The day after Romanoff entered the race, Obama endorsed Bennet. Last month, Romanoff won the Democratic Party endorsement against Bennet, which offers a big boost heading into Colorado's Aug. 10 primary.
Still, the new revelation calls into question repeated promises by Obama to run an open government that was above private political horse-trading. In appealing to voters this election year, Republicans charge that Obama's promise to change the ways of Washington has given way to the craven politics he campaigned against.
An embarrassed White House said last Friday that it asked former President Clinton last year to approach Sestak about backing out of the Senate primary against Specter in favor of an unpaid position on a federal advisory board.
Sestak declined the offer and defeated Specter late last month for the Democratic nomination after disclosing the job discussions and highlighting it as evidence of his anti-establishment political credentials. He said last week he rejected Clinton's feeler in less than a minute.
In a two-page report on the Sestak case, the White House counsel said the administration did nothing illegal or unethical.
Unlike Sestak, Romanoff had ducked questions on the subject before issuing his statement Wednesday night. Also unlike Sestak, Romanoff was out of office and looking for his next act after being forced from his job because of term limits.
The Associated Press contributed to this report.