In London, pro-Trump counter-protesters hit with abuse, some violence
NEWYou can now listen to Fox News articles!
LONDON – A small enclave of pro-Trump supporters were hit by waves of verbal abuse, and even a few moments of violence, on Friday as they made their stand for the visiting U.S. president amid widespread protests in London.
The group of about two-dozen Trump supporters camped out outside The Silver Cross pub and were quickly surrounded by anti-Trump protesters and a circle of police who tried to keep the peace.
The supporters chugged beer and sang pro-Trump football chants, waved U.K. and U.S. flags and threw back counter-slogans at the glowering protesters who accused them of being fascists and Nazis.
"Nazi scum, off our streets," the anti-Trump crowd yelled, countered by chants of "Trump, Trump, Trump."
While a tense truce held for the most part, one protester broke through the police cordon and hit a Trump supporter before being dragged away. He told Fox News that he had been told by police that the protester had been arrested but later released.
"We're here to show that President Trump is welcome," James Goddard, sporting a shiny red ear, told Fox News. He accused the protesters of ignoring controversial figures such as Turkish President Recep Tayyip Erdogan and others and being brainwashed by the mainstream media.
'I questioned [protesters] today at the blimp and I was called a Nazi. I'm wearing a kippah on my head and I was called a Nazi.'
Later, another anti-Trump protester tried to break through, but was intercepted by police and thrown up against the wall.
Augustine Chukwuma Obodo said he loves "everything" about Trump and was representing "Friends of Trump UK"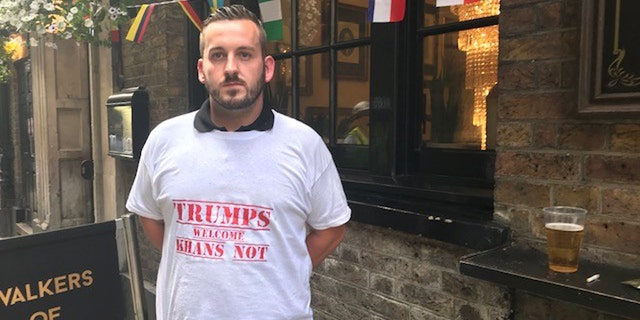 "They are surprised to see a black man as a Trump supporter," he said, wearing a red MAGA cap.
Sure enough, an anti-Trump protester pointed her finger through the police barrier at him: "Excuse me, what's a black guy doing there?"
The supporters also chanted in support of Tommy Robinson, a controversial right-wing activist who was jailed last month after filming outside a court room. A pro-Robinson rally is planned for Saturday.
"Tommy's not coming home," one Trump and Robinson opponent yelled at them.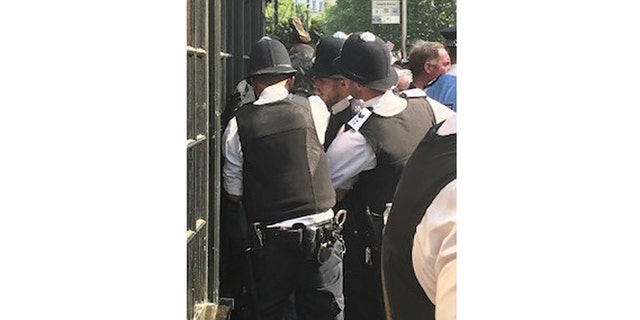 Avi Yemini, of the Australian Liberty Alliance, said he had come to support Trump.
"He stands for freedom, he stands for everything that's right in the world," he said, then gestured toward the protesters. "These people, they hate freedom."
"I questioned them today at the blimp and I was called a Nazi," he said. "I'm wearing a kippah on my head and I was called a Nazi."
Police presence ramped up and kept distance between pro- and anti-Trump supporters, but it didn't stop a few bottles being thrown from the anti-Trump side.
Despite being massively outnumbered, the pro-Trump enclave didn't appear to be spooked by the hundreds of anti-Trump protesters hurling abuse at them.
"From previous experience, we've got nothing to worry about," Tom English, from Manchester, told Fox News.