DeMint to 2012 GOP Field: "Be bold and join the fight"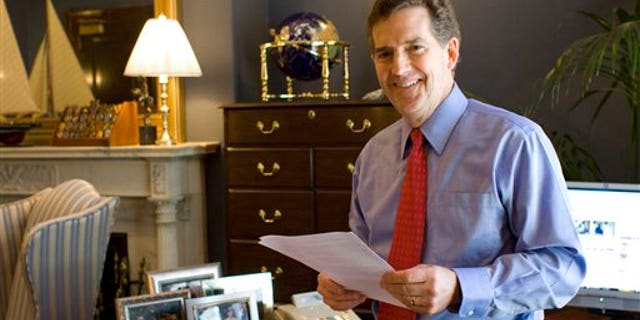 NEWYou can now listen to Fox News articles!
South Carolina conservative Sen. Jim DeMint is headed to Iowa Saturday to rally the party faithful and encourage Republicans thinking about a run for president in 2012 to "be courageous," said a source close the lawmaker. The two-term senator, a Tea Party favorite, continues to insist that he has no intention of jumping into the race, himself, rather he is headed to the First in the Nation Caucus state "to play a role to force Republican candidates to take more conservative positions," the source said.
Conservative Iowa Rep. Steve King organized the weekend gathering, called the Conservative Principles Conference, a kind of state-specific CPAC, aimed at marrying fiscal and social values as the seasoned voters of the Hawkeye State begin to kick the rhetorical tires and check under the proverbial hood of a potentially-crowded 2012 GOP field.
DeMint's ""Courage to be free" message is not likely to please many in the corn-rich state of Iowa, but that's just the point. According to the source, the senator will call for candidates who are willing to "speak the truth" even on issues as politically-charged as ethanol, and that truth for the straight-talking DeMint includes an outright opposition to federally subsidized ethanol mandates which, he has said in the past, drive up the cost of food and make it more expensive for farmers to feed their animals.
Summarizing the senator's message, a keynote address at the conference dinner, the source said, "We need people courageous enough to speak the truth boldly and clearly, people who won't sit back and do the politically correct thing, trying to appease particular constituencies."
Just as he did in 2010 searching for Republicans he thought were "true conservatives" to run for Senate, a mission he plans to repeat with even more money raised in 2012, DeMint is searching for an opponent to take on President Obama. At some point, the source said, he plans an endorsement, as well, but don't look for that any time soon.
DeMint is not expected to call out anyone by name as a potential primary prospect in Des Moines on Saturday, but he might just mention two governors who epitomize conservative values to him, chief executives who have taken on the unions in their states: Wisconsin's Scott Walker and New Jersey's Chris Christie, both mentioned by some advocates as possible Obama challengers.
But if a potential nominee thinks they can get away with just talking about sweeping plans for change, that won't pass the DeMint presidential smell test. The senator plans to give notice in Iowa that he wants to see "people propose solutions that change the system in Washington," the DeMint confidant described. In other words, if a candidate calls for reform, he or she actually needs to show how they will go about it. If someone wants to "make Social Security solvent," as Indiana Governor Mitch Daniels, another possible 2012'er, has proposed, then DeMint is looking for a description of how "personal accounts" can be a solution, allowing younger Americans to invest a portion of their retirement in the stock market. "Don't just say you'll make the current system solvent for Washington's balance sheets, but say how we can change the program to give Americans better, guaranteed benefits that politicians can't steal in future years," the source added.
DeMint, who some have called a "kingmaker" for his success in picking 2010 senatorial candidates, like Marco Rubio of Florida, Rand Paul of Kentucky, and Mike Lee of Utah, is expected to encourage Republicans to stop all the talk of fiscal "pain," too, a "take your medicine" message repeated often by Christie, who some hope will mount a run but who has emphatically rejected the notion. "We can make reducing government a positive message - give people more choices, but stop the message that, 'In 2012: We're the Republicans, and we're here with the pain," the DeMint source said. "Liberal, big government solutions have failed and made our economy and quality of life worse. Our solutions are better for Americans. They don't just balance the spreadsheet."
The senator, who is chairman of the conservative Senate Steering Committee, is also expected to tout his own plans to plus up his ranks in the chamber, using his Senate Conservatives Fund PAC to raise $15 million this cycle, nearly $3 million more than in 2010. "Change in the Senate is just as important as who is elected President of the United States," the source said.
The DeMint source summed up the overarching message from the senator in Iowa like this: "It's 'DeMint to 2012 Republicans: Be bold and join the fight."