Ron DeSantis signs six-week abortion law, delighting pro-lifers and 'devastating' abortion supporters
Florida pro-lifers were overjoyed at the governor's move, while abortion supporters reacted with anger.
Gov. Ron DeSantis, R-Fla., caused a flurry of both joyous and distraught reactions by signing a bill to ban abortions in his state after six weeks of pregnancy.
DeSantis announced that he signed SB 300, dubbed the "Heartbeat Protection Act," on Thursday evening. Passed to his desk by the Republican-majority state legislature, the bill bans abortions after six weeks of pregnancy, though allows some exceptions for victims of rape and incest.
The new bill stipulates that abortions for these women can be sought up to 15 weeks into pregnancy, if a woman has documentation related to the incidents, such as a police report or restraining order, the AP claimed in its report.
PRO-LIFE REPUBLICANS SAY FDA APPROVAL OF ABORTION PILL WAS ILLEGAL, ASK APPEALS COURT TO UPHOLD INJUNCTION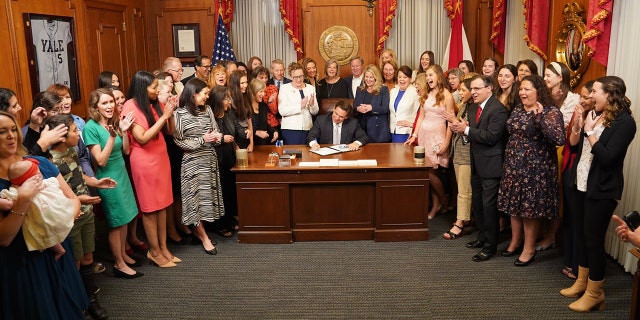 The bill becoming Florida law does hinge on whether the conservative-majority state Supreme Court upholds Florida's current 15-week ban. That ban, enacted a year ago, is ongoing a legal challenge at this time.
The news prompted split reaction on Twitter Thursday evening and Friday morning, with prominent pro-abortion figures decrying the bill signing, and pro-life figures rejoicing in it.
Senior HuffPost reporter Alanna Vagianos wrote, "A six-week abortion ban will devastate access not only for Floridians but also for people seeking care across the southeast. Florida had become a safe haven for abortion care since SCOTUS repealed Roe & a dozen or so states have enacted near-total bans, mostly in the southeast."
In a subsequent post, she wrote, "Important to note that these bans disproportionately affect low-income people, women of color, people who live in rural areas and trans & gender-nonconforming folks. Less than a year after Dobbs & nearly the entire southeast is likely to become an abortion care desert."
Live Action founder and pro-life activist Lila Rose praised DeSantis' move. She tweeted, "BREAKING: @RonDeSantisFL has signed a bill protecting most preborn children 6 weeks gestational age and older from the violence of abortion! This is a big win for Florida and the nation. The next step is completely ending abortion and protecting all of Florida's children."
Prominent Democrat Twitter activist @JoJoFromJerz fretted over the decision, and tried to work in a condemnation of Florida's pro-Second Amendment policies into her complaint.
She tweeted, "In the state of Florida, women will soon be unable to seek an abortion after only six weeks of pregnancy. And yet, just about anyone can carry a concealed and LOADED firearm in public without a permit or training. This ain't about 'protecting life'. It's about controlling women."
Feminist author and frequent MSNBC guest Molly Jong-Fast insisted that DeSantis is "Alienating the center and delighting the base."
SCHUMER SAYS JUDGE'S MIFEPRISTONE ABORTION PILL RULING 'COULD THROW OUR COUNTRY INTO CHAOS'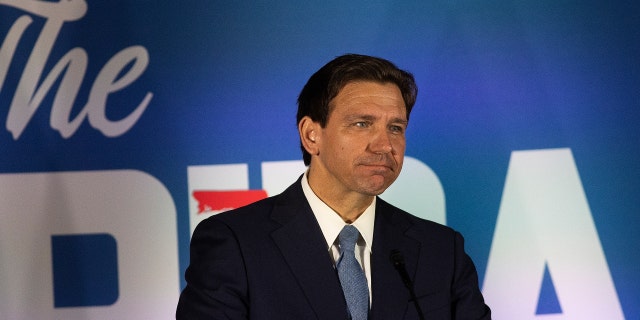 The country's largest abortion provider Planned Parenthood sent out a reassuring tweet to all those lamenting the restrictions that my enacted in the state. Its account wrote, "Florida, we're here with you. As abortion bans sweep the country, it can be confusing to figure out how to get the care you need. Your access to health care is our highest priority, no matter where you live."
Pro-life activist Abby Johnson claimed DeSantis signing the bill is "one step closer to protecting children from the moment of conception just like they deserve."
Governor Kathy Hochul, D-N.Y., weighed in on the bill's approval, tweeting, "Dangerous and shameful. In New York, we'll always protect your right to abortion care."
Conservative legal organization Alliance Defending Freedom celebrated the signing, writing, "By enacting the Heartbeat Protection Act, Florida is continuing its work to protect the health of pregnant mothers, the dignity of the unborn, and the integrity of the medical profession. We commend @GovRonDeSantis for taking a stand to preserve life."
Students For Life President Kristan Hawkins thanks the Florida governor, tweeting, "Florida will no longer be the fifth highest abortion state in the nation thanks to the Heartbeat Protection Act. Thank you @GovRonDeSantis for having the courage to do the right thing. You are setting the standard for GOP and they should follow your lead."
CLICK HERE TO GET THE FOX NEWS APP
And author Stephen King weighed in on the issue, saying, "It has been said before, but it bears repeating: if men could get pregnant, abortion would be a sacrament."