LA parents demand striking teachers return to work, stop 'dancing in the rain' as kids remain home
Parents whose children attend Los Angeles schools said their children as being used as 'political pawns' and 'bargaining chips'
Over 500,000 students attend schools that are part of the Los Angeles Unified School District (LAUSD), so as the worker strike drags into its third day, many parents are sounding the alarm about the impact union demonstrations and school closures have on their children.
Parents whose children attend LAUSD schools criticized union members for using their children as "political pawns" and "bargaining chips."
Members of SEIU Local 99, or the Education Workers United, voted to approve a strike for Tuesday, March 21 through Thursday, March 23, following a year of failed negotiations over staffing and wage increases.
SEIU Local 99 is a union of 50,000 education workers including cafeteria workers, special education assistants, custodians and bus drivers in K-12 schools, early education centers, homes and community colleges throughout Southern California, according to its website.
"All of this could really be solved while the kids were in their classrooms," LAUSD mother Danna Rosenthal told Fox News Digital. "This is now the fifth year of learning loss and disruption. I have my kid at home. I am not able to do my work. It's really not learning, he's sitting here doing packets and I have to supervise him, so nothing's really getting done. I feel like parents really need to have a seat at the table."
REBECCA FREIDRICHS: I WAS A PUBLIC SCHOOL TEACHER AND I KNOW FIRSTHAND WHAT LOS ANGELES SCHOOL STRIKES DO TO STUDENTS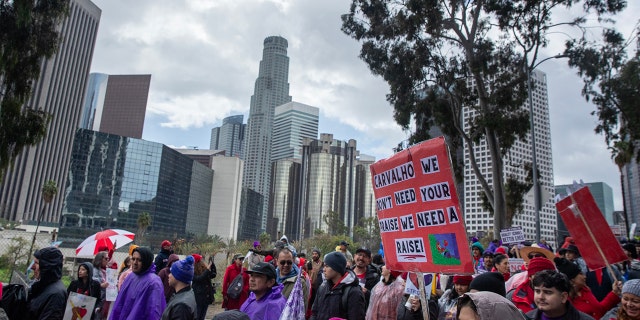 Negotiations began in April 2022, but union leaders said talks came to a standstill in December and in February, 96% of LAUSD workers represented by SEIU Local 99 voted to strike. SEIU Local 99 Executive Director Max Arias has said workers have been living off "poverty wages" with the average salary at LAUSD at $25,000 a year with employees often working part-time hours.
Members of the district's teachers union, United Teachers Los Angeles (UTLA) said they would "respect the strike and not work, joining picket lines and rallies in solidarity with Local 99 members," according to its website.
Picketing began at 6:30am PT on Tuesday morning with footage of the rainy early morning strike circulating social media.
"They're being offered nice packages," Rosenthal said. "If they want an increase, then they should go back to the negotiating table and they should not be stopping school hours and having these kids sit at home."
"They should handle it like adults, but what they're doing is dancing around in the rain and creating theatrics," she added.
Rosenthal said parents know what the teachers union is doing, because many of them stood with UTLA in 2019 in support of their strike, because they "desperately wanted the teachers to have everything that they wanted."
"We brought them donuts and cupcakes," she added. "It actually was ironically raining, I remember fully, we stood with them and pulled our kids out of school and now here we are, what is it, five years later?"
She criticized leaders of the SEIU and UTLA's President Cecily Myart-Cruz who have called on union members to "Shut it down."
"What are you shutting down?" Rosenthal asked. "This is not a corporation, you're shutting down education for kids, you're shutting down services, you're shutting down food, your shutting down safety for kids that need to be at school. It's really it's very disheartening to see what's going on."
She described the learning loss her son has suffered in recent years as "huge" as kids are held "hostage" as "bargaining chips."
NEWSOM SILENT ON LA SCHOOLS STRIKE AFTER 500,000 KIDS FORCED TO STAY HOME FOR SECOND DAY
"My son's grades have suffered," she said. "I think he has ADHD at this point, he really can't concentrate, he can't sit still and he's really not motivated to do a good job the way he would be if he were sitting in a classroom."
"He needs to be with his teacher," she added. "I definitely see when he's in a classroom how he's much more motivated."
Rosenthal works a full time job, but admitted she has not been able to get any work done for the past two days, lamenting that "no one's thinking about the parents."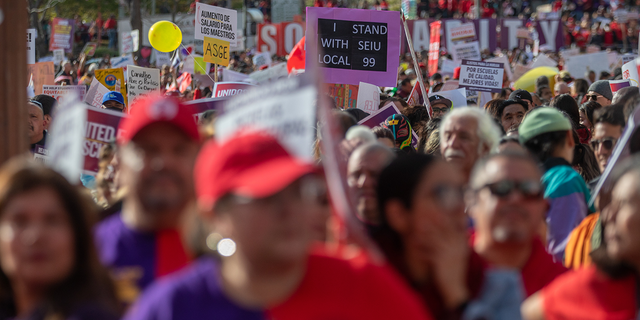 "My career has suffered tremendously [in recent years] and I'm sure my peers' also," she added. "We don't have the luxury to sit here and stay at home hours and weeks on end and tell our companies and our bosses that we have to stay home with our kids."
LA TEACHERS UNION BOSS SAYS CHILDREN LOSE NOTHING DURING PANDEMIC, NOW KNOW WORDS 'INSURRECTION' AND 'COUP'
LAUSD parent Jeremy Kahn and his wife both work full time jobs, so during the strike his 14-year-old daughter has been at home looking after their 12-year-old special needs daughter.
"I've got them on my mind," he told Fox News Digital. "What are they doing at home? They're not getting the education that they need to challenge my oldest daughter, but more so to ensure that my youngest daughter is getting the proper assistance that she needs. What are they doing? They're probably sitting on their phones. They're probably TikTok-ing."
"But whatever they're doing, they're not in school," he added. "School is not a glorified babysitter. School is there not just to teach the kids, but for ultimately the future of this country and bringing up the next generation of leaders."
He pointed out that not everyone has someone that can look after them at home and many parents can't take off work to stay home with their children because they rely on that income to make ends meet.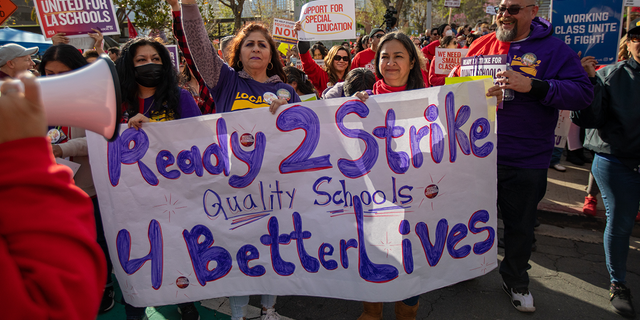 Kahn agreed with Rosenthal that students should be in school while negotiations take place because "three days is a big deal, despite the fact some people may try to belittle it."
"If I walked away from my job for three straight days, I'd be fired," he said. "They have the luxury of standing up and trying to protest and using the children as political pawns in order to get their way. So I guess that's where I get really frustrated with teachers that believe that they're doing what's right by using the children to get their way."
ALASKA BUS DIRVERS STRIKE IN STATE'S SECOND-LARGEST SCHOOL DISTRICT
Parents Defending Education President and Founder Nicole Neily said in a statement to Fox News Digital that the actions of the union has shown that children's educational achievement is their absolute last priority.
"The district's abysmal proficiency numbers and NAEP scores clearly demonstrate how their selfish myopia has hurt the very students who they claim to help," Neily said. "These unelected middlemen suck resources from school systems, skew funding to suit their own self-interest, and leave families high and dry."
"The UTLA kept schools closed for longer than nearly anywhere else in the country and tried to shake down taxpayers in exchange for reopening schools."
She criticized UTLA's Myart-Cruz who said in August 2021 that "There is no such thing as learning loss," because "Our kids didn't lose anything."
"It's OK that our babies may not have learned all their times tables," she said at the time. "They learned resilience. They learned survival. They learned critical-thinking skills. They know the difference between a riot and a protest. They know the words insurrection and coup."
"For parents who have watched their children struggle both academically and emotionally over the past three years, Myart-Cruz's words are insult to injury," Neily added. "Los Angeles families deserve better."