Joe Biden, CNN's Anderson Cooper appear to dispense with social distancing during town hall commercial break
CNN's on-air personalities have criticized Trump for his failure to wear a mask
A former CNN employee noticed that Anderson Cooper and Joe Biden stopped social distancing during Thursday's town hall when they thought the liberal network had cut to a commercial.
CNN digital producer-turned-Fourth Watch editor Steve Krakauer tweeted video of Cooper and Biden, who kept their distance throughout the coronavirus-era event, but appeared to get within inches of each other as the camera zoomed out prior to a commercial break.
CNN PANNED FOR 'SOFTBALL' BIDEN TOWN HALL: THIS ISN'T GETTING HIM READY FOR THE DEBATES
"Joe Biden and Anderson Cooper are making a point of social distancing during the CNN Town Hall while on the stage," Krakauer wrote to accompany the video. "But when they think they've gone to commercial break, they get so close to each other that Biden is whispering in Cooper's ear."
CNN had promoted the Scranton, Pa., town hall as if the network was taking all the necessary precautions. It featured a "socially distanced live audience" that included participants remaining in their cars. The drive-in component was called "the latest adaptation to campaigning during the coronavirus pandemic" by CNN's Kate Sullivan.
"CNN is following all of the local guidelines and restrictions put in place due to the coronavirus pandemic," Sullivan wrote. "Everybody attending and working the town hall will have their temperatures taken and will answer screening questions."
CNN did not immediately respond to a request for comment.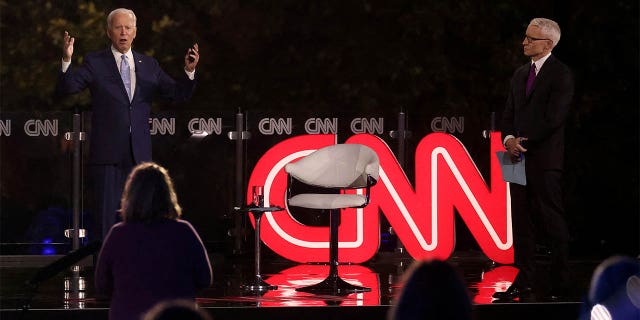 CNN's on-air personalities and reporters have criticized President Trump for his failure to wear a mask and for holding crowded events amid the pandemic, but it appears the network doesn't always practice what it preaches.
Back in May, CNN reporter Kaitlan Collins sparred with President Trump after the president called her a "CNN Faker" over video showing her removing her mask while inside the White House briefing room.
The video showed Collins taking off her mask in the briefing room and not following social-distancing guidelines of staying at least six feet away from others.
Fox News' Frank Miles contributed to this report.