Biden booed during State of the Union for claiming GOP wants to cut Social Security, Medicare
Biden faced swift backlash from Republicans over the false claim they want to gut entitlements
President Biden was scolded by a wide swath of Republican lawmakers for dubiously claiming they want to cut Social Security and Medicare.
During his second State of the Union address Tuesday night, Biden face strong resistance from the GOP, who he accused of wanting to take the economy "hostage."
"Some of my Republican friends want to take the economy hostage, which I get it, unless I agree with their economic plans." Biden said. "All of you know should know what those plans are."
"Instead of making the wealthy pay their fair share, some Republicans, some Republicans want Medicare and Social Security sunset," Biden said before clarifying, "I'm not saying it's a majority."
FOUR SUPREME COURT JUSTICES ABSENT FROM BIDEN'S STATE OF THE UNION
That was met with resounding boos with lawmakers waving their hands and shaking their heads.
Rep. Marjorie Taylor Greene, R-Ga., was seen shouting, "Liar!" at the president.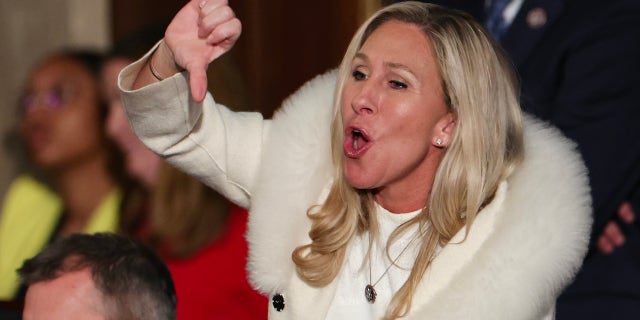 "Well I'm glad - I'll tell ya, I enjoy conversion," Biden joked. "It means if Congress doesn't keep the programs the way they are, they'd go away. Other Republicans say - I'm not saying it's a majority of you… but it's being proposed by an individual."
"I'm politely not naming them, but it is being proposed by somebody," Biden added.
CONSERVATIVES PREEMPT BIDEN'S SOTU SPEECH CRITICIZING HIS LEADERSHIP: 'THE STATE OF THE UNION = DETERIORATING'
Biden was likely referring to an agenda proposal introduced last year by Sen. Rick Scott, R-Fla., who suggested "All federal legislation sunsets in 5 years. If a law is worth keeping, Congress can pass it again."
Scott's proposal, which was widely rejected even by Republicans, was made in his failed bid to challenge Senate Minority Leader Mitch McConnell, R-Ky.
Even the liberal Washington Post declared the Democrats' claim that Republicans want to end Social Security and Medicare as "false."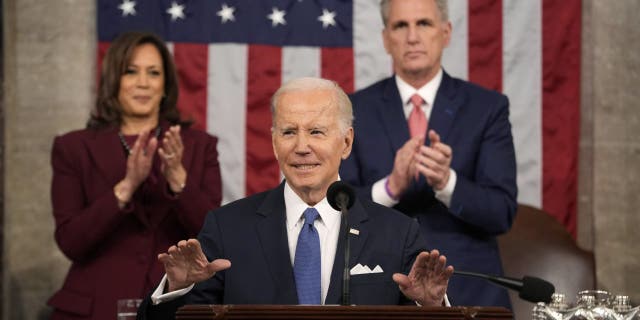 CLICK HERE TO GET THE FOX NEWS APP
Before that, the first boos at the State of the Union came as Biden mentioned the amount of debt added by the Trump administration.
"Nearly 25% of the entire national debt that took over 200 years to accumulate was added by just one administration alone – the last one," Biden said as Republicans grumbled. "They're the facts. Check it out. Check it out."