Woman is first Miss Minnesota USA contestant with Down syndrome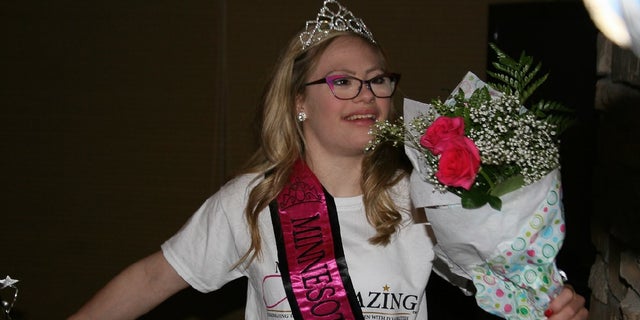 A young woman from Minnesota wants to change the way people look at Down syndrome, and to do so, she's making a splash in one of her state's most high-profile events: Miss Minnesota USA.
Mikayla Holmgren, 22, will be the first person with Down syndrome to compete in the pageant, PEOPLE reported.
"I'm going to blaze the trail!" Holmgren, from The Marine on St. Croix, told the website.
JULIANNE HOUGH ON HOW SHE STAYS CONFIDENT AND FIT
Holmgren is a seasoned performer. Not only did she already win the Minnesota Miss Amazing pageant, which focuses on showcasing the talents of women with special needs, in 2015, but she also speaks for her university and tutors kids, TODAY reported.
TODAY reported that doctors weren't sure what Holmgren's future held when she was a child, as she was born with an underdeveloped esophagus and epilepsy. Yet, Holmgren overcame their expectations when she began walking at 9 months old and speaking at 13 months old.
#DISABLEDANDCUTE: THE VIRAL CAMPAIGN INSPIRING CONFIDENCE AMONG THE DISABLED
Holmgren's mother, Sandi Holmgren, enrolled her daughter in dance classes around age 6. Holmgren took to them and moved onto gymnastics next.
"I just think how blessed am I to have this beautiful daughter that is making a difference in the world and showing others a different face of beauty," Sandi Holmgren told TODAY. "She's just a go-getter — I don't know what it is about her."
Miss Minnesota USA executive co-director Denise Wallace said she thinks Holmgren is "confidently beautiful."
"Mikayla is such an incredible and accomplished young woman," Wallace told PEOPLE. "We feel she definitely has what it takes to compete at the Miss Minnesota USA pageant this fall."
INSTAGRAMMER HAS POWERFUL MESSAGE FOR WOMEN STRUGGLING WITH BODY CONFIDENCE
The pageant is Nov. 26 and includes three segments, The Mighty reported: evening wear, swimsuit and an interview. If Holmgren wins, she'll have a chance to compete in the Miss USA competition in 2018, TODAY reported.
Now, Holmgren is raising the $4,000 she needs to cover fees, her gown and other competition-related costs on GoFundMe. Since launching her campaign a couple of months ago, she's raised about $1,800 of her goal.
"I want the world to know that Down syndrome does not define me," Holmgren wrote on her GoFundMe page. "With your help, I can help break through walls."
FOLLOW US ON FACEBOOK FOR MORE FOX LIFESTYLE NEWS
But the chance to be crowned in any pageant isn't why Holmgren competes. Rather, she is aiming to flip the script on how she feels society views people like her.
"I want to show my personality," Holmgren told PEOPLE. "I want to show what my life looks like, being happy, and joyful. I want to show what Down syndrome looks like."