Widowed grandmother surprised with emotional holiday gift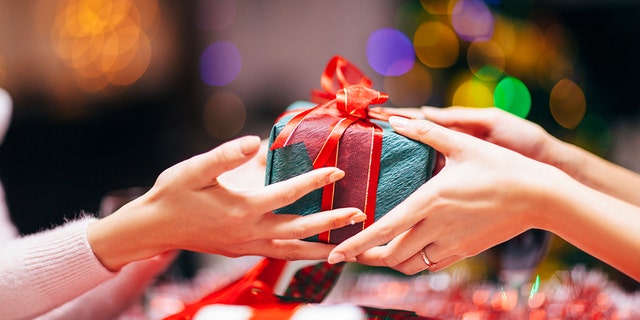 The holidays are never easy for those grieving over the loss of a loved one.
For Jeanie Gum, this Christmas will be her first in over six decades without her husband Bill, who passed away from cancer in March. The West Virginia couple were high school sweethearts and were married for 64 years, so their love inspired granddaughter, Sammie Beaty to coordinate an extra-special gift for "Nanny" this year.
"I wanted to have something special that we could put in my papaw's chair, where he always would sit for our family Christmas. I thought it was a great idea to turn his sweater that he always wore on Christmas Eve into a pillow," Beaty told Good Housekeeping on Dec. 11.
"It's been rough for my nanny since my papaw's passing, and we wanted to comfort her," she said.
COUPLE CELEBRATES 47 YEARS OF MARRIAGE WITH PORTRAITS BY PHOTOGRAPHER DAUGHTER
The family had Bill's favorite Christmas sweater made into a pillow, and then embroidered with an emotional note: "This is a shirt I used to wear, and whenever you hold it, know I am there. Love, Bill."
Presenting the gift to Jeanie ahead of the holiday, the sweet grandma's awestruck reaction to the gift soon went viral after hitting Facebook on Dec. 8, amassing 3.7 million views as of Tuesday morning.
"Oh," Jeanie says, taken aback, as she first pulls the pillow out of a gift bag and breaks down crying. "Oh, thank you so much — I'll cherish my whole life," she says, as family members rush to comfort her.
BALD MOTHER AND DAUGHTER CELEBRATE HEALTH IN VIRAL PHOTOSHOOT
Beaty's post has accumulated over 4,700 likes, 4,800 comments and a whopping 54,000 shares, prompting her to note that the story is a smart reminder of the importance of sharing your true feelings with others.
"My nanny tells us every day to love one another daily and to say 'I love you' as much as you can, because you never when it will be the last time you say it to someone you love with your whole heart," she says.
FOLLOW US ON FACEBOOK FOR MORE FOX LIFESTYLE NEWS
And even though Dec. 25 is still almost two weeks away, the pillow is likely to be Jeanie's favorite gift of the season.
"She said it was the best present she has ever received in her life," Beaty said.