While U.S. Struggles, Mexico City is Awash in Luxury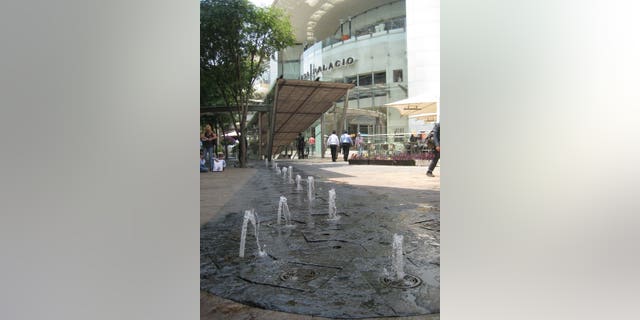 Even the breeze feels more rarefied in Antara Fashion Hall.
The moment you enter this open-air mall in Mexico City, the soot and car exhaust outside seem to disintegrate. Water bubbles up from a ground-level fountain. Ahead, radiant fuchsia flowers decorate the path through this mecca of luxury stores.
Some boutiques, like CH Carolina Herrera, opened during the shopping center's earliest days in 2006. But others moved in more recently, like Brooks Brothers in 2009, and Marc by Marc Jacobs in 2010.
"There are people that are just starting to get to know the brand, and there are people who learned of the brand in a department store," said Luis Larracilla, the Marc Jacobs store manager.
One could forgive the shoppers for their ignorance: the designer just launched in Mexico two years ago. But even in a period of global economic instability, his company already has three stand-alone locations and distribution in 12 other larger stores, like El Palacio de Hierro and Saks Fifth Avenue, in the country.
These days, Mexico City has a seemingly insatiable hunger for the upscale. While the United States cautiously soothes its nerves after the financial crisis, the Federal District is awash in immense construction projects, luxury brands and product-shilling American celebrities. Madonna opened her first gym, Hard Candy Fitness, here in late November, and Katy Perry, Olivia Wilde and Paris Hilton have all swung by for promotional events in recent months.
"With the U.S. market set to be challenging for luxury brands in the next few years, there is opportunity for retailers in South America with its emerging markets such as Brazil and now, Mexico," said Kate Ormrod, an associate analyst at Verdict, an arm of business research firm The Datamonitor Group.
The number of wealthy individuals in Mexico – defined by Verdict as those with financial assets over $150,000 – is projected to grow by 12.9 percent annually to 531,000 individuals in 2014. In comparison, the number of wealthy individuals in the United States – those with financial assets of over $300,000 – is set to grow by 10 percent in the same period, said Ormrod, by e-mail.
In the middle of the economic crisis, luxury tanked in the United States. Designers lowered their prices, stores closed and plans for expansion halted. In 2009, the demand for luxury goods in North America, "mainly the U.S.," dropped 9.5 percent, according to a Verdict report. In the meanwhile, Mexico welcomed brands, which continued to branch out during the same period.
In addition to retail options, Paseo de la Reforma, Mexico City's most prestigious boulevard, is buzzing with construction. In early April, newspaper El Universal reported that there were 17 major building projects, mostly corporate headquarters and office space, on a central stretch of the road less than two miles long. In the city's most business-oriented neighborhoods, helicopters constantly whisk away executives to their next urgent meetings. (A 2010 CNN Expansión article said the number of helicopters in the country had grown 33 percent since 2005.) And in late March, W Hotels Worldwide announced it would be opening up a new location in the capital's Santa Fe district.
But what looks like a fresh wave of prosperity is, in part, the expansion of a longstanding trend.
"Mexico has always had a very, very, very rich upper class," said Jonathan Heath, an economist and research fellow at Mexico's National Institute of Statistics and Geography.
Before the 1980s, though, the wealthy bought most luxury items abroad. "They would make a trip to some city in Texas maybe once a month," said Heath.
With the reduction of trade barriers and lowering of tariffs, the country began importing more goods.
Of course, not every Mexican with an iPhone or Coach purse qualifies as "very, very rich" or even upper middle class.
In their new book, "Clasemediero, No longer poor, not yet developed," authors Luis de la Calle and Luis Rubio write that the group with the highest level of purchasing power – receiving $7,083 a month or more – represents just 7.2 percent of Mexico's population. But the country has a burgeoning middle class that travels, goes to the movies and owns computers. They're only earning between $566 and $2,916 a month, and comprise 53.7 percent of the population, according to cited 2008 statistics from the Mexican Association of Marketing and Public Opinion Research Agencies.
One factor assisting in their purchases: Mexico's credit card use has increased rapidly in the last decade, said David Ricardo Vizcarra Torres, an analyst with SIREM, a Mexican economic consulting firm.
"Your average secretary that goes to Starbucks doesn't pay with cash – she pays with credit card," he said.
And every day, there are new places to whip out your plastic. The latest hotspot for shopping is Plaza Carso, built by Mexican telecommunications and development magnate Carlos Slim Helú, the world's richest man, according to Forbes.
Saks Fifth Avenue opened its second Mexico City location there in October 2010, after establishing its first store in the city's Santa Fe area in 2007. The entire center is anchored by Museo Soumaya, a glistening, other-worldly structure, which holds Slim's art collection.
The complex sits directly behind Antara, proving that even Mexico City's most luxury-soaked corners aren't fully saturated.
Ruth Samuelson is a freelance writer living in Mexico City. She can be reached at ruth.samuelson@gmail.com.
Follow us on twitter.com/foxnewslatino
Like us at facebook.com/foxnewslatino