What to do with leftover holiday decorations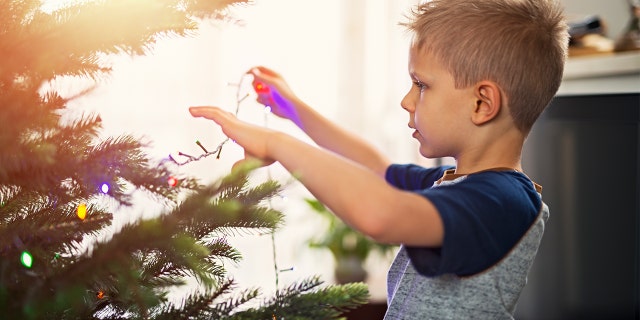 For some festive family fun, get crafty!
"The holidays are such a busy time," Darcy Miller, a celebrations expert who has crafted for stars such as Drew Barrymore and Blake Lively, tells The Post. "But the week between Christmas and New Year's is great because it really feels like a break, and it's nice to use that downtime to create."
This season, try making keepsakes with stuff you already have around the house, such as leftover wrapping paper or Hanukkah gelt. It minimizes your prep — who wants to do more shopping? — and encourages your kids to be imaginative.
HIGH SCHOOL JANITOR'S REACTION TO SURPRISE CHRISTMAS GIFT GOES VIRAL
"It's all about finding that project that speaks to you — don't feel like you have to do everything," says the mom of three Miller, the author of "Celebrate Everything!"
Miller has a special mantra for crafting — no matter the time of year. "Instead of DIY, I like to say DIT: 'Do it together,' " she says. Here are some of her most darling ideas for repurposing your holiday goods.
Wrapping paper: Cut out thank-you cards
Once you're done opening presents, don't ditch the paper — "turn it into thank-you notes for your presents," says Miller. It's the perfect way to make the post-holiday thank-you note process more fun and interactive for kids. Don't forget to keep track of the gift givers! "My girls can't open a present without writing down who gave them what," says Miller.
For a super-simple card option using sturdy wrapping paper, "just cut it and fold each piece in half, with the print on the outside and the blank sides on the inside for writing," she says. To make use of thinner paper, use your favorite holiday cookie cutters to draw shapes (like these gingerbread men) onto the wrapping paper, then cut them out and glue or tape to a piece of folded card stock or construction paper.
Gelt: Personalize them
"I actually do a lot with chocolate coins all year round," says Miller, who suggests changing up the metallic façade with customized stickers printed on adhesive Avery label paper. (Plain paper works well, too. Just cut the photos into uniform circles and attach with double-sided tape.)
Or, scatter them on your New Year's table so guests can marvel at cute memories from the year as they snack. They also make charming party favors or place cards: Use a fun Instagram shot of your guests on one side and write their names on the other.
Candy canes: Make lovey-dovey treats
"Everyone has candy canes left over, and you never know what to do with them," says Miller. Consider saving them for Valentine's Day — "I'm always looking ahead to the next holiday," she says — or have kids place them facing each other atop cupcakes, or out on your table for a post-Christmas brunch that makes guests feel the love.
Adds Miller, "One other delicious way to use them is to crush them up to sprinkle onto your hot chocolate — or take one to stir your cocoa and add some minty flavor."
FOLLOW US ON FACEBOOK FOR MORE FOX LIFESTYLE NEWS
Champagne and plastic coupe cups: Pour Jello shots
"If you've got extra plastic coupes, you don't need to wait until next year to use them," says Miller, who suggests an idea from "Celebrate Everything!" "For New Year's or just a fun night in, make a tower of Champagne Jell-O."
To fill eight standard 6-ounce Champagne coupes, mix a ¹/₄ oz. packet of gelatin, ½ cup of hot water and 2 ½ cups of Champagne and chill to set until party time.
Donate the extras
Miller loves working with the Birthday Party Project, a nonprofit that throws parties for kids at homeless and transitional living facilities around the country. They accept wrapping paper, extra plastic tablecloths, art supplies such as markers or crayons, streamers and party hats, as well as gift cards and presents.