University of New Mexico honoring Mexican-American novelist Rudolfo Anaya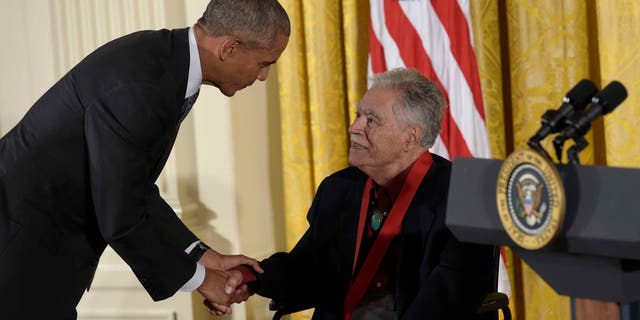 NEWYou can now listen to Fox News articles!
ALBUQUERQUE, N.M. (AP) – The University of New Mexico will pay homage this week to acclaimed Mexican-American novelist Rudolfo Anaya, who was recently awarded the National Humanities Medal from President Barack Obama.
The lecture was created through a donation from the Pastura, New Mexico-born author who also founded the school's creative writing program.
Novelist and poet Rigoberto Gonzalez is scheduled to speak Thursday at an event that is part of the Rudolfo and Patricia Anaya Lecture on the Literature of the Southwest. Anaya's novel "Bless Me, Ultima" was made into a movie in 2013 and an opera based on the book is in the works.
Gonzalez said he is honored to speak at the Anaya lecture, especially since Anaya mentored him as a young writer.
"I still have an old, signed copy of 'Bless Me, Ultima.' It has gone with me in all the places I've lived," said Gonzalez, author of "Our Lady of the Crossword."
Gonzalez wrote the summary for Anaya's National Humanities Medal.
Literary critics say Anaya's "Bless Me, Ultima," a World War II-era novel set in New Mexico about a boy and a traditional healer called a curandera, influenced a generation of Latino writers. Its imagery and Mexican-American cultural references were rare at the time of its 1972 publication.
Despite the popularity of "Bless Me, Ultima" on college campuses throughout the years, the novel was banned in some Arizona schools after a campaign by some who said the book promoted the overthrow of the federal government.
Latino literary critics have called those claims "outrageous."
University of New Mexico English professor Bernadine Hernandez said the school was proud to host the lecture series after Anaya's recognition by Obama. She said in previous years Acoma Pueblo poet Simon Ortiz and Latina playwright Denise Chavez have been keynote speakers for the lecture series.
"Rigo is an example of what Rudolfo Anaya started," Hernandez said. "So we are very excited to hear what Rigo has to say."