Tom Brady's Super Bowl coat has Twitter likening him to 'Inspector Gadget,' 'Zoolander'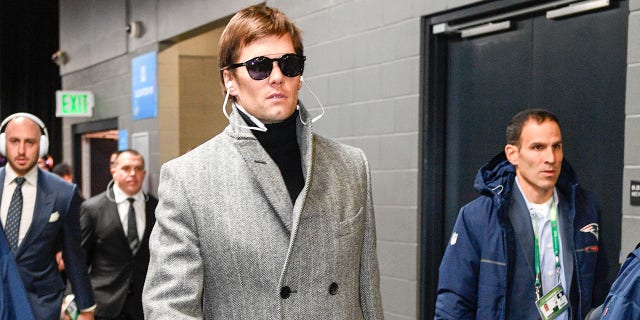 Tom Brady couldn't catch a break on Sunday, both on or off the field.
Before the Patriots quarterback even picked up a football, tweets started pouring in about the outfit he wore to the U.S. Bank Stadium in Minneapolis, which consisted of sunglasses, earbuds, a black turtleneck and a double-breasted trench coat.
WENDY'S TAKES TWITTER JAB AT MCDONALD'S OVER SUPER BOWL OUTAGE
Brady was only on camera for a few seconds, but that was apparently long enough for his ensemble to draw comparisons to Inspector Gadget; Zoolander; a divorced mother who just won "custody of her kids"; and even Audrey Hepburn from "Breakfast at Tiffany's."
Others likened his look to a supervillain or foreign assassin, though not necessarily a good one.
And dozens more — including former MSNBC personality Ronan Farrow — floated a humorous theory that Tom Brady is actually just three kids stacked atop each other, as if they were trying to sneak into an R-rated movie.
BRADY'S TB12 MEAL KITS AREN'T BAD, BUT THEY'RE A PAIN TO MAKE
In fairness, this isn't the first time Tom Brady has embraced this style; he's worn trench coats to previous games, and even appeared at press conferences sporting the look. He's won praise for a few of them, too, despite some critics.
It's also currently unclear who designed Brady's jacket, although both Sandro and Zara offer similar gray trench coats for $275 and $249, respectively, and Helmut Lang has a lovely double-breasted number for $1,195, albeit just for ladies.
FOLLOW US ON FACEBOOK FOR MORE FOX LIFESTYLE NEWS
The latest backlash will likely do little to prevent Brady from making similar clothing choices next season, either: As another star quarterback has already proven, you can wear whichever ridiculous coat you want as long as you accessorize with a Super Bowl ring: