Toddler with a walker charms Instagram with sweet Halloween costume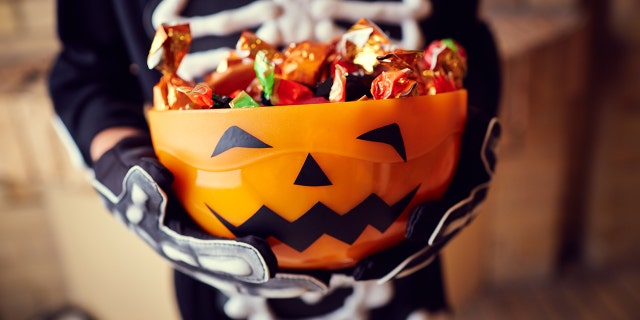 Two-and-a-half year old Madden Gray of Austin, Tex. may use a walker, but that wasn't going to slow down his parents, Courtney and Hyrum, from dreaming up an awesome Halloween costume for him.
As the owners and operators of Tnee's Tpees, which makes kid-friendly tents, rugs, blankets and other home goods, creativity apparently comes easy to the couple, and the two soon landed on the perfect Halloween outfit for their third child: an old-fashioned kissing booth.
"Last year, he had barely gotten his walker, and we were trying to think of ways to include it into his costume, so he was an old man, and my wife was an old woman," Hyrum told Yahoo Lifestyle.
COUPLE WOWS FANS WITH EPIC 'KISS CAM' SMOOCH
"This year, we wanted to do something again to integrate his walker. He's just a special little boy, and everybody loves and adores him, so it just popped into our head to do a kissing booth," he added, sharing the sweet photos with Instagram on Oct. 25.
Preparing their children's costumes early this year ahead of a "trunk or treat" party at their church, the parking lot setting was ideal for Madden to motor around with his walker, and show off his sweet costume.
MOM CLAIMS STORE-BOUGHT HALLOWEEN MAKEUP 'SEVERELY' BURNED SON'S FACE
"Everybody came up and … asked, 'Can I give him a kiss?'" Hyrum said. "Lucky [for them] he was handing them out for free. We could have made tons of money!"
Tnee's Tpees' 111,000 Instagram followers were just as smitten with Madden's costume, too
FOLLOW US ON FACEBOOK FOR MORE FOX LIFESTYLE NEWS
"This is the sweetest thing I've ever seen" one wrote user. "Heart melt … Seriously, in a puddle. Great job Dad," added another.