Tired of covering grays? Silver hair is the hot new trend
NEWYou can now listen to Fox News articles!
Is silver the new black? When it comes to your hair, it just might be: More and more women are saying goodbye to dye and hello to their natural silver hair color.
Gray hair had previously been associated with "being older," or "that a light had gone out in a way," according to stylist and "Silver Hair" author Lorraine Massey. "And then Clairol came along and we started to color and hide everyone's natural color."
Now, however, Massey is on a mission to launch a new movement to inspire women to let their natural hair shine through.
HAVING GRAY HAIR MAY INCREASE YOUR RISK OF HEART DISEASE
"Silver hair is not aging at all," Massey said. "You're not letting yourself go, that's for sure — you're just letting go of the idea of being silver."
Hair goes gray when pigment-producing cells begin to die off. Scientists don't know exactly why some people go gray early, but genes play a large role.
Andrea Fishkin, 35, says she started to see silver strands peek through when she was just 12 years old.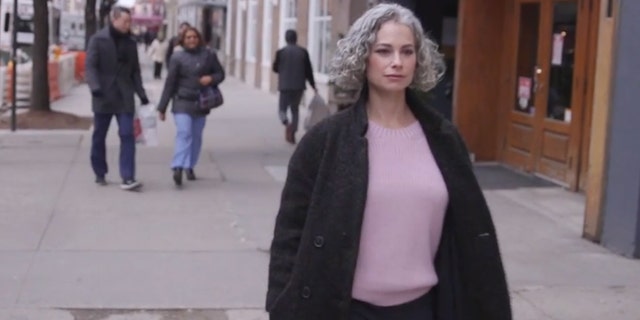 "I thought that maybe there was something wrong with me. Like, 'Why am I graying so early in my life?'" Fishkin told Fox News.
SCIENTISTS DISCOVER POTENTIAL CURE FOR GRAY HAIR
Fishkin said her mother started going gray when she was 18, so she knew there was a good chance she would follow the same silver path. After 12 years of dyeing her hair every four to six weeks, Fishkin decided to accept her silver tresses.
"I get compliments every day," Fishkin said. "It really makes me who I am. I love the brightness of it, I think it really matches me really well."
Women like Fishkin are not alone in their silver journey. Celebrities like Jamie Lee Curtis and Helen Mirren were some of the first to embrace full silver. And now younger women like Kendall Jenner, Pink and Lady Gaga have followed suit.
"We're talking about the last five years the silver trend has been going on, and I'm amazed at how many women actually look really great with silver hair," Massey said.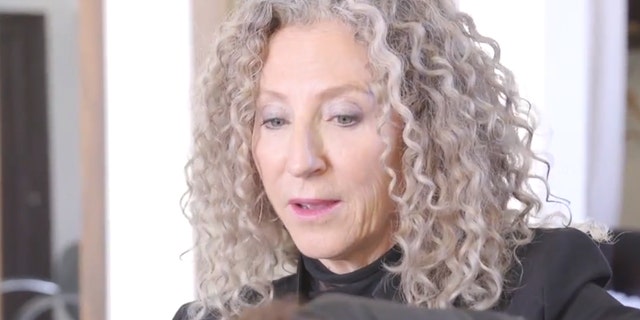 CERTAIN HAIR PRODUCTS MAY INCREASE YOUR RISK OF BREAST CANCER, STUDY SAYS
Massey believes women should consider going silver if they find themselves complaining about their repetitious salon trips. With her book, Massey has helped dozens of women ease into their grays, like Dana Guerrero, 51, who struggled with the idea of going full silver from her dyed brown hair.
"I have salt-and-pepper silver tones to my hair, but I kind of want to experiment with just going all the way," Guerrero told Fox News.
Massey said there are a few ways women can embrace their naturally changing shade: you can quit dying your hair cold turkey and wait for your dyed hair to grow out; you could start adding highlights or lowlights to your hair for a smoother tone transition; or you can begin growing out your color from underneath.
Despite the different approaches to going silver, Massey stresses that there's no quick fixes, and most women will have to be patient. For those who normally get their hair dyed every four to eight weeks, for instance, it could take up to a year and a half until the hair is totally silver, Massey said.
Women with short hair, on the other hand, can just try going gray all at once. Since Dana's hair was cut in a short pixie style, Massey went ahead and bleached it before dyeing it silver.
"Now that she's in full bloom in silver, she can let her roots grow in, and her roots will probably be really cool-looking," Massey said. "Then, before she knows it, she's got her own color and she's also acquainted herself with this lightness around her face as opposed to dark."
Going silver may also be good for your wallet, too. According to Massey, women who go to the salon at least every six weeks to cover up their grays could save around a $1,000 a year by going natural.
After a few hours in the chair, Guerrero was speechless when she saw her transformation to silver for the first time.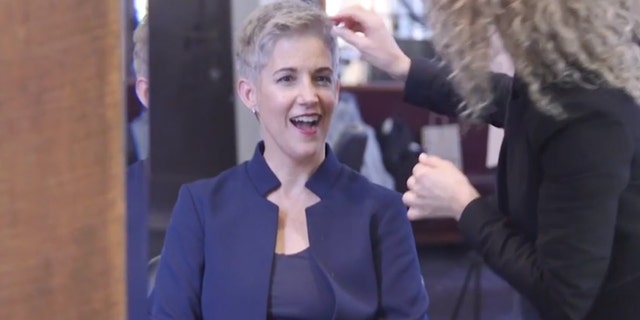 "I don't know what to think, I mean it's beautiful, I love it, it's such a change that I can't speak now. I mean I'm never at a loss for words," Guerrero said.
Going silver isn't just about style or saving time and money at the salon. It's about the desire for authenticity and the freedom to be oneself, Massey said.