The Serious Business Of Baby Talk: How One Pilot Program Aims To Improve Lives Of Low-Income Kids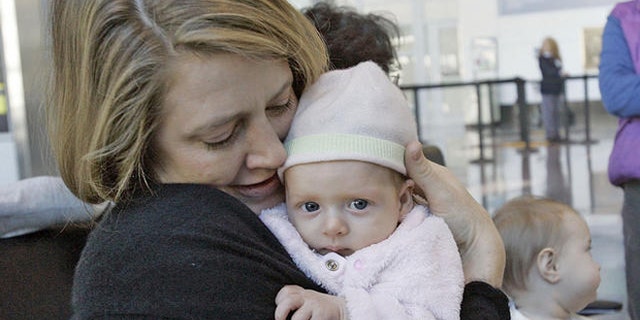 NEWYou can now listen to Fox News articles!
When 17-month-old Deisy Ixcuna-Gonzales takes a bath, her mother talks to her. When Deisy eats breakfast, her mother talks to her. They play, they talk. They eat, they talk.
For the last two months, Deisy's mother Maria has been coloring her daughter's world with words, conscientiously infusing Deisy's playtime with songs and stories and narrating their activities throughout the day.
It's a small adjustment to the way the two used to spend their time. But it's a shift that officials in Deisy's hometown of Providence, R.I. hope will keep her safely away from the 30 million word gap that researchers say may contribute to the academic achievement gap between kids from low-income families and high-income ones.
"Closing the word gap is a key to ensuring that all of our children enter kindergarten ready to learn and succeed," said Providence Mayor Angel Taveras. "Boosting the amount of children who can read at grade level will be one important indicator of success."
Twenty-four low-income families, including Deisy's, participate in the city's program now. Each one places a small recording device into a pocket of a vest that records a day's worth of dialogue between parent and child one day every two weeks. An algorithm evaluates what is captured and can tabulate by hour how many words were spoken by the adult, how much came from television or radio and how many conversations were had.
This is not the first program to try to increase dialogue in the home. But it is novel in that it is administered by a city and its scope is large. Providence Talks, as it is called, is expected to grow to include 2,000 families by mid-2016, with help from a $5 million grant from Bloomberg Philanthropies.
The project is based on research from the 1980s from Betty Hart and Todd Risley. They wanted to know why a pre-school language intervention they designed to help low-income children catch up to the academic levels of more affluent peers didn't have long-term results.
The two explored whether achievement disparity started before school and, because of their work, they focused on language. For two-and-a-half years, they recorded and tracked the number of words spoken to the children of 42 different families. By age 4, children from low-income households spoke 32 million words fewer than those from higher income homes.
The word gap has since become a battle cry for early intervention.
Maria, Deisy's mom, and her husband, Rafael, pack fruit in a factory. They have another child named Jeremy who is 5. They are originally from Guatemala and speak K'iche', a dialect from the country's central highlands, with their children. When she was growing up, Maria said her mother didn't speak to her as much as she is speaking with Deisy.
"This is very different than what I was used to," said Maria. "I grew up with my mom but she didn't talk to me the same way."
Providence Talks provides Maria with a curriculum. They've shown her how to talk about preparing food with Deisy, counting fingers and toes as she changes her diapers and how to label her emotions. Maria says she spends 15 minutes reading to her, 15 minutes playing with her, 15 minutes singing to her. She has also been more involved in her son's school work, helping with his writing and talking with him about school.
Andrea Riquetti, director of Providence Talks, even used the recording device and software on her own children. She learned she was less conversational and more direct when trying to get her kids out the door.
"I was missing an opportunity to share and take part in dialogue," Riquetti said.
In her years as a teacher, Riquetti has seen the vocabulary gap she's now hoping to help kids circumvent. She recalled reading "The Very Hungry Caterpillar" to her students. They'd be able to say the caterpillar ate fruit but didn't have the words to label the apples, pears or plums – so she spent time building that background knowledge.
"But if you have to do that every time you read a book, you are not getting them to where they need to be for reading at the end of kindergarten," she said.
As promising as this work may seem, however, some academics caution that this fix may not be a panacea.
"It's complicated," professor Curt Dudley-Marling of Boston College said of education and poverty, a relationship he studies closely.
"We are saying we in schools value certain ways of talking, certain ways of interacting with children and that's where things get problematic," he said.
While Professor Dudley-Marling says there will be poor children who are not exposed to language, speaking to them more won't change the most fundamental obstacles they face in their lives.
"By focusing on presumed deficits, we ignore other material effects of poverty which are a pretty big deal," he said.
Even those at the forefront of work being done to close the word gap say increasing word usage is just one piece the complicated puzzle of poverty.
"There are no silver bullets," said Dana Suskind, professor of surgery and pediatrics and director of the Pediatric Cochlear Implantation Program who directs a project in Chicago known as the Thirty Million Words program.
"Word gap is a rallying cry," said Suskind, who is on the advisory board of Providence Talks. "It's something people can wrap their minds around." And, she added, it could pave the way to provide other services that families need.
There hasn't yet been a study with a large population that has been able to track how language intervention in a child's first few years has helped them over time. But Suskind's program this month received a portion of a $19 million grant from the PNC Foundation to work with language development of children from 200 to 250 families and track their progress over five years.
Regardless of what the research may or may not turn up, Maria has found that Deisy's language abilities have soared. So she remains committed and chats away as often as she can.
"I want," she said. "better for Deisy than what I had."