The Miners Got Rescued and All We Got Was This Lousy T Shirt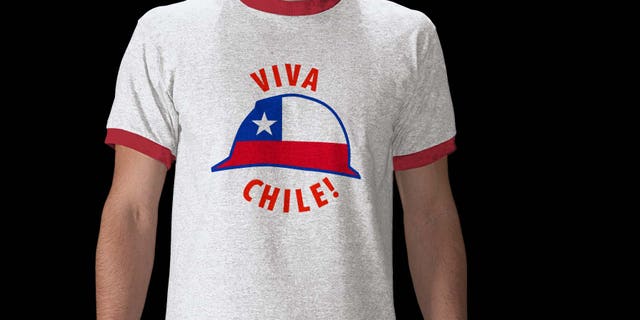 Within 30 minutes of the first Chilean miner being rescued commercial illustrator Nenad Jakesevic had put his first Chile-themed product up for sale on the internet: A t-shirt with a simple design of the Chilean flag, super-imposed on a miner's helmet.
Jakesevic is not Chilean. He's never been to Chile. And he's certainly not a miner: He's a 60-year-old New York-based illustrator, originally from Yugoslavia. But he suspected that the Chile-themed t-shirts, bumper stickers, totes and buttons that he posted on Zazzle.com, an online marketplace that allows people to upload and sell their own designs, would find a market.
"It was omnipresent, everyone was watching the miners come out," he says. "I knew people would be interested."
Interest in the country definitely spiked: According to Insights for Search, which is a Google tool that looks at search trends in a graphical form, Google searches including the word 'Chile' spiked 100 percent on October 11th. CafePress.com, a competitor to Zazzle, reports that from August to September, while the miners were trapped underground, they saw a 50 percent increase in Chile-themed products. On Oct. 13, the day most of the miners emerged, the site saw over 300 new Chile miner-inspired designs posted.
Jacqueline Plass, the director of Chile's National Tourism Service, told El Mercurio that plans are afoot to leverage the miracle at the mine into additional investment and tourism traffic.
Chile-based luxury travel company Explora has already started. According to Alberto Arellano, the press contact at Explora, the company publically offered the 18-member Chilean rescue team a posh three-day getaway at their Atacama desert resort.
"You have won a well deserved rest, guys. See you in San Pedro de Atacama!" President Sebastian Pinera said at 12.35 am on Wednesday, once the last rescue worker, Manuel González, came out from the mine.
It's paid off: Arellano reports a recent spike in the number of emails, phone calls and Facebook messages about the company's Atacama offering.
"Of course there are no numbers yet," he says. "We won't know until later how much this will translate into bookings."
And of course, that is the question. Without the 24-7 news coverage, how long will the interest in Chile t-shirts and luxury trips last?
Jakesevic, for one, is hopeful. He's sold 45 of his tchotchkes since Tuesday.
"I did a design when the Iceland volcano happened, too," he says. "And those are still selling."