Teacher goes viral for sharing her 3rd graders' hilarious 'tattle form' responses: 'Making fart noises'
From 'farts' to 'chewing too loud,' check out these laugh-out-loud replies shared by a Washington DC teacher
An elementary school teacher who shares her young students' daily grievances is going viral after compiling the hilarious tales that land in her "Tattle Box" each day.
"Kids are going to tell you every little thing that's going on," Jillian Magee, 30, a third-grade teacher in the Washington D.C. area, told Fox News Digital.
"They would interrupt me mid-sentence in the middle of class with very random tattles on other students."
ARKANSAS STUDENT DRESSES AS HER 2ND-GRADE TEACHER FOR SCHOOL 'SUPERHERO DAY: 'MELTED MY HEART'
Magee, who has been teaching for seven years, said when students would alert her to the fact that someone "bumped into me on purpose" or "didn't mind her business," she needed a way to keep them on track and while she returned to her daily lessons.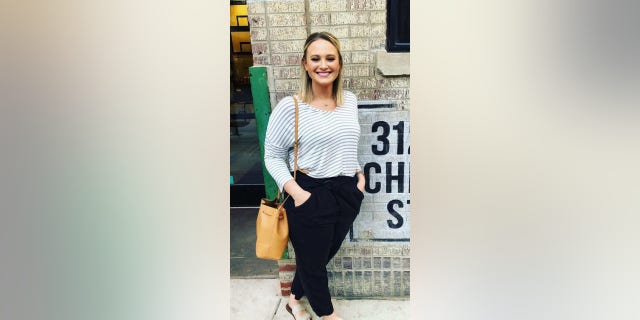 "I eventually started telling them to just write it down on a sticky note and put it on my desk," Magee said. "But then my desk would be full of sticky notes."
TEACHER EXPLAINS WHY SHE KEPT A DISCONNECTED, 'OLD SCHOOL LANDLINE PHONE' MOUNTED TO HER CLASSROOM WALL
Her solution was to create a "Tattle Form" – asking students to provide their name and some information about their "tattle."
Then she transformed an empty tissue box into a receptacle for everything that might be bothering her students.
She sifts through the complaints each day to learn what is on her students' minds.
"If there's anything that's super important," Magee said, "I always address it and talk to them about it."
Important tattles could be anything that involves inappropriate words, Magee said, or something that she knows is not true and the student may have been trying to get somebody else in trouble.
CAUGHT ON VIDEO: ADORABLE TODDLER TAKES EXTRA PRECAUTIONS WHEN UNLOADING THE DISHWASHER
"I've never posted any of those," she said. "But they are the ones that I'm like, 'I definitely have to talk to you about this.' Chewing loudly and making fart noises — I don't need to talk about it."
"Conflict resolution has been one of the benefits of the "Tattle Box," Magee said.
"I think it's a really good form of positive communication," she said. "It helps them with solving conflicts."
It has also helped reserved students find their voice, Magee said.
MICHIGAN TEACHER GOES VIRAL ON TIKTOK AFTER SWEET RETIREMENT SEND-OFF FROM STUDENTS
"If they have something that they want to tell me, but they're too afraid to say it in person, they can write it down instead," Magee said.
"When you have little notes like this that you can just kind of giggle over, it makes you feel better about what you're doing."
"I think it has added to their confidence," she added. "They are learning that it's okay to speak up — that they can say something."
Even if the tattle is a small annoyance and not an emergency, writing it down can help each child, Magee said.
GROUP HUG! BOY GETS ADORABLE 'WELCOME BACK' AT PRESCHOOL AFTER ILLNESS PUT HIS TWIN IN THE HOSPITAL
"You don't even have to put your name on it. Just throw it in the box, just to get it off of your mind to make you feel better about it."
Magee said she can often see a storyline amid the notes.
"If there's a series in the day where all the kids are saying the same thing, those are my favorite," Magee said. "I think one of them was that there was a 'student farting,' and I think I got four of those one day."
"Or 'chewing loud,'" she added. "I got three of them. When I put them in order, it just sounded like a story, and I was able to piece together what happened just based on what they said."
NY ELEMENTARY SCHOOL STUDENT, AGE 7, SAVES CHOKING CLASSMATE HEIMLICH MANEUVER
Since the COVID-19 pandemic, teachers have reportedly been frustrated — and 55 percent said they plan to leave their profession earlier than planned, according to a recent survey by the National Education Association (NEA).
"I think that those statistics are real," Magee said. "There are very tough days that we have…when you have little notes like this that you can just kind of giggle over, it makes you feel better about what you're doing."
CLICK HERE TO SIGN UP FOR OUR LIFESTYLE NEWSLETTER
Magee shared the "Tattle Forms" in a series of TikTok videos, which are garnering millions of views.
Magee said she was shocked to learn her video went viral, but it also meant she was reaching other educators.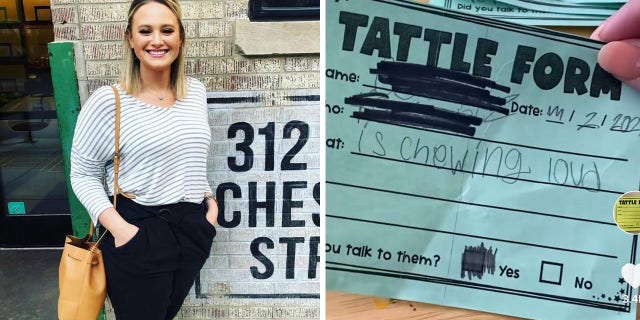 "This is like gold for teachers because this is something that's happening in every classroom, every day," Magee said.
"It's very relatable for teachers to realize 'I'm not the only person who is experiencing this.' I've seen a lot of comments from teachers saying that they are going to implement the 'tattle form' in their classrooms too."