Queen's cousin apologizes for 'offensive' jewelry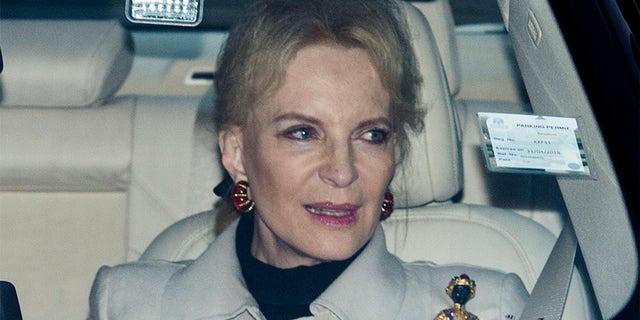 NEWYou can now listen to Fox News articles!
Queen Elizabeth II's cousin has apologized for wearing jewelry that some observers on social media found offensive.
The brooch came under fire for its "blackamoor" style – a style dating back to 16th century Venice that has been criticized for exoticized images of servants and slaves of African descent, Travel + Leisure reported.
A spokesman for Princess Michael of Kent said late Friday that she is "very sorry and distressed" that the brooch featuring the head of a black man caused offense.
CARA DELEVINGNE'S 'CAT-CALLING' JIMMY CHOO AD SPARKS OUTRAGE ON TWITTER
Those on Twitter accused the princess, who has worn the brooch many times before, of wearing it as a racist slight to Meghan Markle, Prince Harry's fiancée as Markle's mother is African-American.
"@KensingtonRoyal What exactly is the significance of the brooch worn by Princess Michael of Kent to the Queen's luncheon? It does not look appropriate and in fact looks highly offensive and racist and if so, she should be banned from the property," one Twitter user wrote.
"Appalling show of disrespect and jealousy from Princess Michael of Kent. She has never gotten over being the 'foreigner not really welcome into the family' Meghan however will be welcomed with open arms and adored by everyone," another wrote.
Several on the social media platform also brought up Princess Michael of Kent's previous controversies regarding race.
"This same royal cousin, Princess Michael of Kent, was accused of racism in 2004 when she told a group of black diners in New York (a former colony) that they should 'go back to the colonies.'"
FOLLOW US ON FACEBOOK FOR MORE FOX LIFESTYLE NEWS
The princess, who entered the royal family when she married Prince Michael of Kent, wore the brooch to a Christmas lunch hosted by the queen earlier this week. Markle was among the guests.
Markle and Harry plan to marry at Windsor Castle in May. There was no indication the brooch offended either Markle or Harry.
The Associated Press contributed to this report.