Pregnant woman finishes college exam from hospital bed, goes viral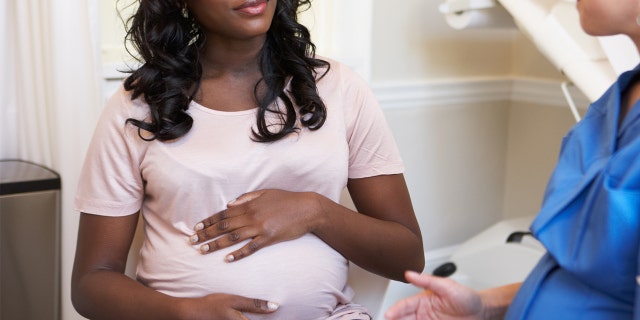 College students know that the year-end hustle is real, and one Missouri woman didn't skip a beat as she completed final exams from her hospital bed while in labor.
On Dec. 12, Nayzia Thomas shared a photo on Twitter of herself in the study zone, focusing on her laptop and a textbook, despite the fact that she was propped up in a hospital bed, in a gown, about to welcome her child into the world.
MOM STYLES TODDLER'S PINK HAIR, SPARKS INTERNET FRENZY
Better yet, the hardworking Johnson County Community College Kansas City student said though the dissociative identity project for her major's final wasn't yet due until later that week, she was determined to complete the assignment on time and avoid an "incomplete" grade.
"It wasn't due until the end of the week — finals week is Dec. 11 to tomorrow — but my goal was to try to have everything done before," Thomas told Yahoo Lifestyle. "[I thought] 'before all this gets crazy let me hurry up and finish this final'."
With over 103,000 likes, 20,000 retweets and 250 supportive messages soon rolling in on Thomas' post, the Twitterverse had nothing but laudatory messages for the new mom.
NUTRITIONIST BLASTS WOMEN'S MAG, EDITS COVER WITH HEALTHY MESSAGES
"Mad respect! my wife had our baby in between semesters and I've never seen strength like that woman has displayed. You and my wife are the embodiment of strength, determination, and perseverance. Congrats!" one user wrote "This is what I'm tryna see on my TL. A young upcoming mother working for her degree no matter what. Now that's a bad b," another chimed in.
Others, meanwhile, loved Thomas' poise, from her sleek locks to her strength of mind.
"Okay but can we appreciate the hair though? Its one thing to be pregnant, its another to be pregnant during finals. But to pregnant during finals and still slaayyyyyyy your hair.....I'm amazed," one admirer said, while another joked that seeing the photo made her feel like an underachiever.
"She had a WHOLE BABY YO. While I'm sitting over here struggling to keep this 3.0 with no job, child, friends, or bf to distract me," they said.
FOLLOW US ON FACEBOOK FOR MORE FOX LIFESTYLE NEWS
Thomas later shared another photo, announcing the birth of her new baby boy, Anthony Johnson, detailing that while she went into shock after delivery, her and her son are now healthy and well. She also passed the semester with flying colors with a 3.5 GPA.
"School is so important to me," Thomas told Yahoo, adding that she stayed in classes until she was 39 weeks pregnant because her college degree is so important to her.
"I didn't want [the pregnancy] to be in the way. That's what people expect. You're a teen mom, you're a young mother," she said. "That's why my mom took that picture. It shows [I] follow through."