Predicting the World – and the Next President, Maybe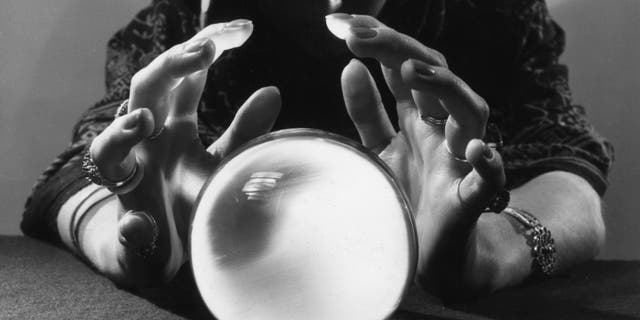 They predicted this meeting long ago.
Astrologers from all over the world – from Mexico to Japan to Serbia – are meeting in New Orleans this week to try and predict everything from the end of the world to who will be the next U.S. president.
Trouble is, the forecasters of the future don't seem to agree on one answer. Their predictions span the map – so don't look to them to determine who will be the next president. Or whether the Mayan apocalypse is real, or just a fallacy.
The roughly 1,500 astrologers, representing 30 countries, are in the city's famed French Quarter for the United Astrology conference held every four years. They say their work goes beyond the entertainment of horoscopes, tarot cards and palm readings, instead relying on in-depth study of the solar system.
This year, there is no shortage of predictions.
"If you thought that the election of 2000 race was crazy, that's nothing compared to what's going to happen in November of 2012," said astrologer Michael Lutin, an astrology columnist for Vanity Fair magazine for 25 years. "Don't count on anything being smooth."
That's because Mercury — the planet of communication, tabulation and transportation — goes into what's known as retrograde on Nov. 6, Election Day. Retrograde in astrology refers to the optical illusion of a planet moving backward, causing changes or disturbances in areas of life represented by that planet.
In 2000, Mercury was in retrograde when controversy swirled in Florida over the recount that took center stage in the race between George W. Bush and Al Gore. Florida was a swing state, and the outcome of the election wasn't known for more than a month after balloting.
"There could be tabulation problems, problems with the polling machines. Vote absentee to make sure your vote is counted," said New York City astrologer Shelley Ackerman.
A number of high-profile figures in history used astrology, she said. Rose Mary Woods, President Richard Nixon's secretary, passed along "national security forecasts" from astrologer Jeane Dixon to the commander-in-chief. First lady Nancy Reagan consulted with astrologer Joanne Quigley in the White House, she said.
And during World War II, British intelligence hired an astrologer, with little success, to predict Hitler's actions.
Astrologer Kim Allen, of Brooklyn, N.Y., said she's got a "strong feeling" Obama will be re-elected for a second term, and she's not alone.
"There's a little bit of a consensus about Obama and pretty much a belief that Obama is likely to be re-elected," said astrologer David Railey of Atlanta, who practices in the U.S. and in China.
That consensus is wide: Participants come from countries including China, Russia, Serbia, South Africa, Turkey, Mexico and Japan.
Another hot issue is the economy: Several astrologers say the next few years will be tough, regardless of who wins the election.
"The first two decades of this century are the difficult ones, and we're going through it no matter who's president,"said Raymond Merriman, a financial astrologer and presenter at the conference. "We'll come out of it by I would say no later than 2020. The next decade will be good."
Many astrologers also are quick to debunk predictions that the world will end Dec. 21, in conjunction with the ending of one of the Mayan calendars.
"Keep making your car payments and your mortgage, because there's going to be a 2013," said Lutin, who is performing in a theatrical spoof on the subject Saturday night. "It's not going to be doomsday. It's not going to be an asteroid. It's not going to happen."
Based on reporting by The Associated Press.
Follow us on twitter.com/foxnewslatino
Like us at facebook.com/foxnewslatino