Peru's beloved 400-year-old olive trees in jeopardy due to overwatering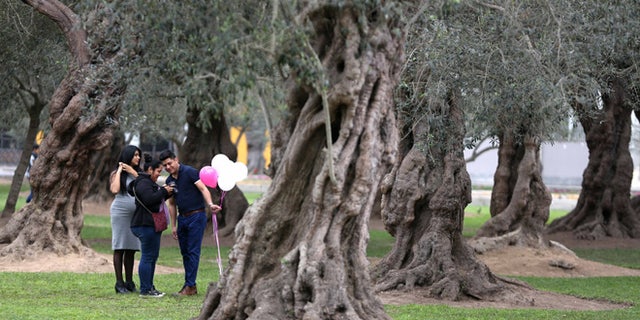 LIMA, Peru (AP) – Four centuries ago the Count of San Isidro planted nearly 2,000 olive trees from his native Spain in a sprawling grove on the edges of Lima, the capital of colonial Peru.
Perfectly suited to the arid climate, the olive trees thrived as the city grew around them. Their twisting, knobby trunks and shady leaves became the centerpiece of a park named for them — El Olivar — that's a magnet for lovers, exercise enthusiasts and children on school field trips.
However, in a feat of poor planning, officials surrounded the trees with a 25-acre (10-hectare) carpet of crabgrass that every week receives more than 2 million gallons (9,000 cubic meters) of water, practically drowning the 1,700 trees.
After nearly a century of overwatering, many of the slow-growing trees are at risk of dying. Eleven have exposed roots and are in danger of falling, as one did in 2014. The problem is drawing attention to how residents and city planners waste scarce water resources ornamenting Lima with lush parks unsuited to the capital's dry environment.
"Lima was built atop a desert," Maureen Vilca, a teacher at a private Catholic school, reminded her students as they sat under the trees on a recent school day.
The district of San Isidro, Lima's wealthiest and best-organized, is looking for ways to urgently fix a problem created by previous administrations. Under consideration are plans to substitute the current grass for a less thirsty species, or using targeted irrigation techniques to prevent overwatering. Under normal conditions the trees could live more than 1,000 years, said Fernando de la Vega, who oversees San Isidro's parks.
Salustio Pomacondor, a forestry expert, said the lack of water planning is endemic to Lima. He cited as an example a 6-mile stretch of parks along El Malecon, which overlooks the Pacific Ocean and which the city spent years improving without much consideration for the constant watering that such immaculate landscaping requires. Another example of the focus on aesthetics over utility is the preference on downtown sidewalks for willows, a tree usually found next to rivers and which requires 40 gallons (150 liters) of water each week.
Pomacondor said the majority of Lima's 9 million residents have little notion of how scarce a resource water is in the capital despite the fact that annual rainfall rarely exceeds a third of an inch (9 millimeters.) While an estimated 700,000 residents have no access to running water, the rest consume an average of 66 gallons (250 liters) a day, more than their counterparts in other Andean capitals such as Bogota, Quito or La Paz.
"Everyone plants whatever they feel like," he said.
Like us on Facebook
Follow us on Twitter & Instagram