People are applying temporary tattoos to their eyes and lips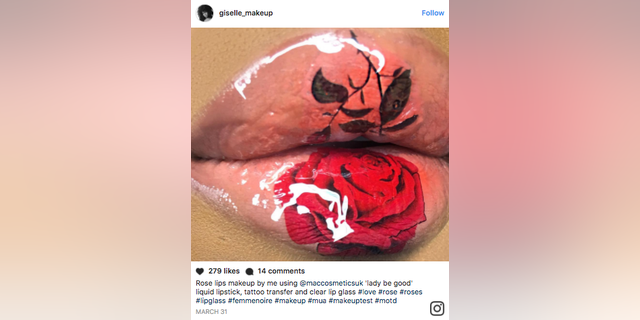 NEWYou can now listen to Fox News articles!
Just because you're a fully grown adult who pays bills and does your own taxes doesn't mean you have to give up temporary tattoos. In fact, makeup artists on Instagram are making a pretty convincing argument for bringing back the childhood birthday party staple. They've been incorporating temporary tattoos into their makeup and topping them with high-shine clear gloss to elevate the look. Not only is the result is stunning, temporary tattoos are the perfect lip art or bold eye makeup hack.
If you aren't particularly coordinated with your liquid liner, temporary tattoos are actually the perfect shortcut for adding graphic details to your look. You don't have to worry about drawing out your best flower or geometric shapes only to smudge it the second you're finished — these teensy temporary tattoos deliver sharp designs every single time.
The mini lip tattoos from Violent Lips, which are specifically made for placing on your pout, are most used on Instagram. For $10, you get 100 teeny tiny tatts in fun shapes like emojis and cupcakes. However, Giselle Ali, a professional makeup artist based in London, recently used a sheet of random roses she found on Amazon for a couple dollars. "But if you want to push the boat out, Tattify.com has some really unique designs," she tells Allure. We also love Tattly's selection, as it combines pretty fragrances and super ornate imagery.
After you pick out your temporary tattoo, you have to decide where to put it: on your lid or your lips. (Ali also has placed them over blocked-out brows.) If you opt for your lips, Ali recommends swiping on some matte liquid lipstick as a base. "It's important to use a lipstick that will dry matte as the transfer will need an oil-free surface to stick to," she says. If you're going for a bare lip look, you can use the M.A.C. Retro Matte Liquid Lipcolour in Lady Be Good like Ali did, which was the perfect MLBB shade.
However, you can do an ombre look, too. A makeup artist who goes by Noirojos on Instagram combined Kat Von D's Everlasting Liquid Lipsticks in Outlaw (a brick red) and Ludwig (a fawn) to create this look.
For this look, she used a matte black from Black Moon Cosmetics.
Once the liquid lipstick is completely dry to the touch, place the temporary tattoo in your desired spot. (Noirojos decided to concentrate on the part of her lips where the lipstick was the lightest.) Then, wet the tattoo's paper backing. (Ali likes to use a sponge to completely saturate the paper.) Noirojos recommends a wet brush, though. After 30 seconds, you can pull away from the paper backing. Then, you can go on with your day, but gloss adds some dimension to the look. "I added clear gloss on top since the tattoo transfer has a clear shiny film, and my colors were matte," Noirojos says.
Professional makeup artist Bea Sweet agrees. "You need to inject life back into it so it becomes more than 'oh, here's a temporary tattoo I stuck on' and elevate it into "here is a well-thought out look that I have conceptualized' by adding gloss and giving it something to reflect light and bounce that shine back."
When applying the gloss, be sure not to smear it on. "Dab, don't smear," Sweet advises. "When you smear something around it sheers it out. Why do you want to sheer out a gloss if you're trying to get that gloss texture? So dab it, let it settle, and don't slide that stuff around."
Here's some more inspo for you to peruse.
As for lids, the same technique applies — sans liquid lipstick. Just be sure to that you don't have any oil on your eyelids before applying the temporary tattoo. Bare skin works best in this case. "The only thing I can't get them to stay on top of is a pigment," Sweet says. "The textures don't blend."
Simple enough, right? The hardest part is deciding what temporary tattoo you're going to use.