Our American Dream: Like Father, Like Daughter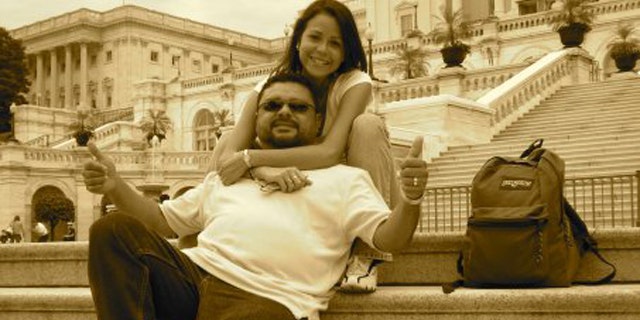 In all fields of endeavor, across the United States, Latinos are working to uphold their place in American society. Fox News Latino is proud to present "Our American Dream" – a series of snapshots and profiles of Latino success stories.
When Shajena Erazo, 23, took the stage a year ago at her college graduation, she had one man squarely on her mind and in her heart: Her father.
To know Shajena's story is to know her father: Franklin Osiris Erazo, her hero and the man who laid the foundation in which her family's American dreams have been built on.
It started with a hand grenade on the border between Honduras and Nicaragua in the late 1970s. There, then-17-year-old Franklin, a soldier in the Honduran Army, stood side-by-side with his officer father assisting refugees from Nicaragua's civil war. But friendly fire ended his father's, her grandfather's, life.
Franklin Erazo left for the United States a few months later. Knowing no English, he arrived in Los Angeles and traveled to New York City with only a quarter in his pocket, a pair of cowboy boots on his feet and an insatiable thirst for hard work.
"For so long, he only spoke Spanish. But he was so eager to prove his Americanness," Shajena Erazo says.
He found himself spending many cold nights on park benches with his cowboy boots on. He pumped gas and painted artwork on window displays at McDonald's and Burger King to get by.
Around this time, his life was beginning to change. He fell in love with a woman named Gelly, and soon they married and had children. But three years after Shajena was born, tragedy struck the family. At age 39, Gelly Erazo died from complications while giving birth to her second child.
A widower at 26, Franklin was now mom and dad.
"He had to take us to the restroom, do our hair, and cook our food," Shajena said. "He really had to grow up and be the man he really needed to be because my mom was gone."
Heartbroken and shattered, he moved his family to Miami. It was there that, in 2001, after becoming a naturalized citizen, he opened his own business: American Precision Products, a construction machinery company.
Franklin worked long hours."His scent was cologne, mixed with grease, mixed with the sweat of hard work," his daughter remembers. He also taught Shajena to play soccer and stayed up late with her to go over homework.
Sadly, last December, seven months after Shajena dedicated her college graduation speech to her father, Franklin passed away from a sudden heart attack. Shajena's hero, her salsa partner of 23 years, and her best friend was gone.
Franklin's business is no longer open, but his legacy continues. He had remarried and raised six children (including two stepchildren); among them a son in the Coast Guard, a daughter getting an MBA, another one getting her master's and teaching, and a daughter going to join the Armed Forces. He also had three grandsons.
"That is the American dream. My father is my hero," Shajena says.
Today, Shajena is a 9th grade English teacher at Ballou Senior High School in Washington D.C.,while earning her masters. She is teaching the lowest-performing students, in one of the lowest-performing schools, and in one of the lowest-performing school districts in the country. Each year, Ballou graduates only about 50 to 60 percent of its senior class.
"I can see the Capitol from the school, yet my kids are not getting a world-class education. We have dilapidated resources and are failing nationally," she says.
She wants to give her kids a fighting chance at the American dream she holds so dear. Whether or not she does so in the classroom or at the policy level, is yet to be decided.
"My father always dreamt I would be in the White House one day," she says. "I thought, 'OK dad, Secretary of Education.' He would tell you, 'President.'"
Follow us on twitter.com/foxnewslatino
Like us at facebook.com/foxnewslatino