Oops! Rachel Dolezal responds to H&M racist ad controversy with her own 'racist' sweatshirt design, which she then changes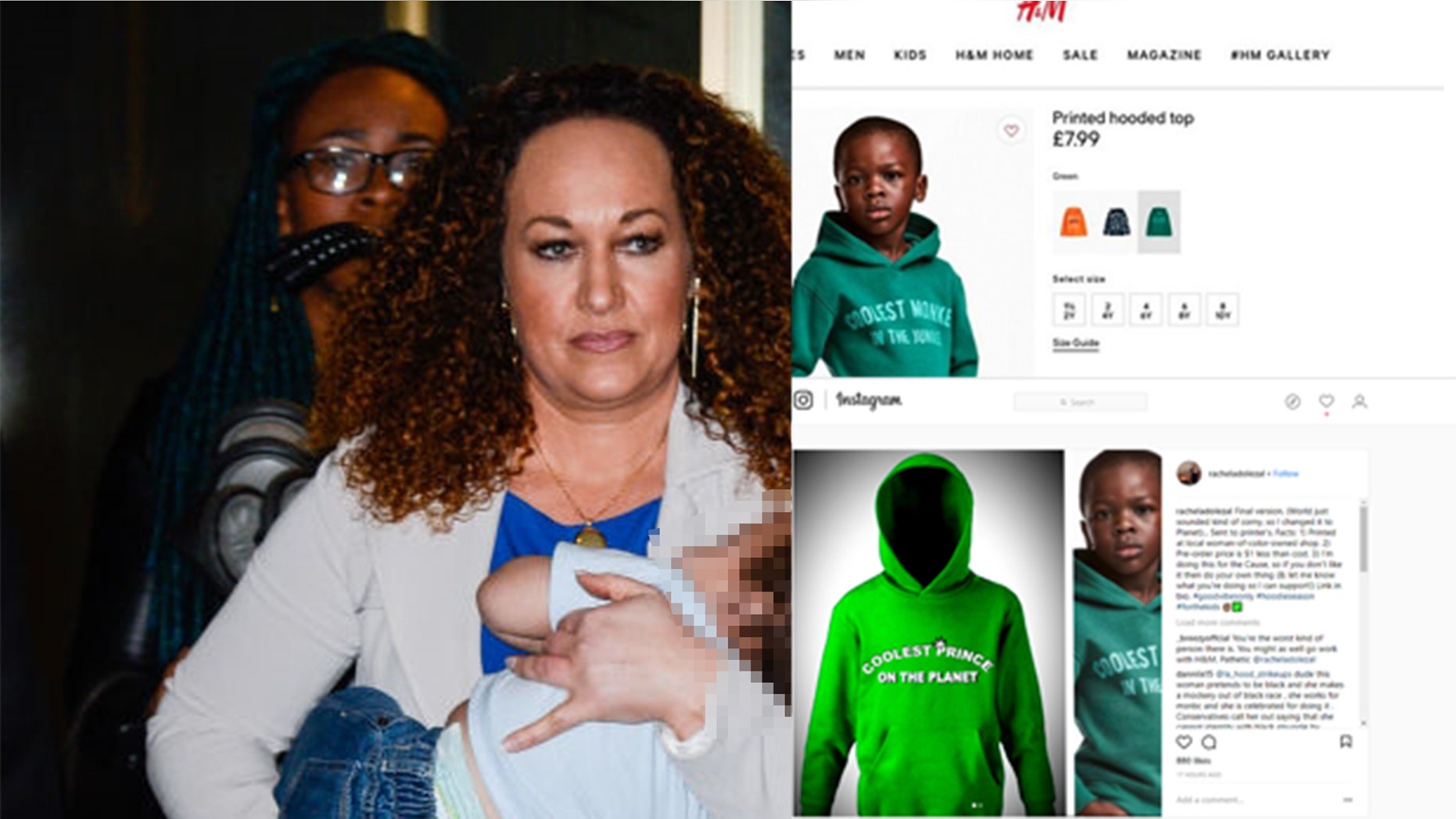 Rachel Dolezal ─ the white woman who identified as an African-American and ran a chapter of the NAACP before being outed and accused of racial appropriation ─ has decided to insert herself into the controversy surrounding H&M's racist "Coolest Monkey in the Jungle" sweatshirt ad.
H&M APOLOGIZES FOR 'COOLEST MONKEY' AD FEATURING BLACK MODEL
On Tuesday, Dolezal announced on Instagram that she would be selling a "protest" hoodie after H&M was forced to apologize for using a young black child to model its "Coolest Monkey" sweatshirt.
As she explained in the caption, she designed the sweatshirts ─ which initially read "Coolest Prince in the Hood" ─  not only to "counter" H&M's version, but also because she claims her own biracial son was called a "monkey" back in the second grade, according to a screengrab captured by The Root.
But Dolezal had to then change the message on her "protest hoodie" after her design was criticized for being racist as well, forcing her to drop the word "hood," Complex reports.
"I did a first design in response to H&M's 'Coolest Monkey in the Jungle' shirt that said 'Coolest Prince in the Hood,' because it's a hooded sweatshirt/neighborhood, etc," Dolezal wrote. "Some people liked it, some didn't like the word 'hood.'"
After toying with a design that read "Coolest Prince in the World," Dolezal announced on Instagram that she has settled on a slogan reading "Coolest Prince on the Planet," which she's selling for $15.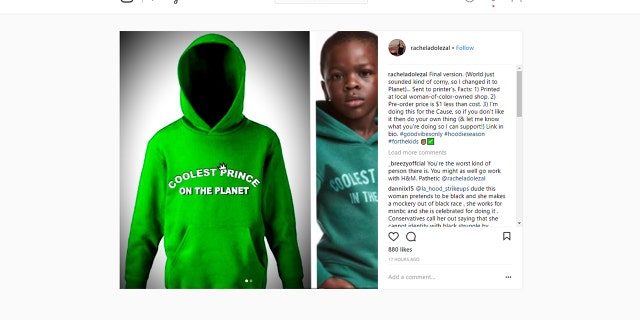 "Race is a contentious issue in America [and] around the world, because the painful history of colonialism, slavery, Jim Crow and apartheid persist in present-day racist behaviors and attitudes," Dolezal wrote on her website. "In 2018, there is no place for ignorance. This is the hoodie the child should have been wearing… just look at his handsome face [and] excellent modeling skills!
"Put your young prince in a hoodie that emphasizes his worth," she added.
EMILY RATAJKOWSKI DOING DAMAGE CONTROL AFTER CONTROVERSIAL INSTAGRAM POST
Her initial description stated that the proceeds of the hoodie would "go directly to providing for the 3 coolest princes in my household (my 3 black sons)," although she has since stated on Instagram that the sweatshirts cost more to make than she's charging, and is instead "doing this for the cause."
Dolezal's new design is still generating plenty of backlash, however, as dozens of Instagram users are now accusing her of trying to profit off of the H&M controversy.
"Girl… how u gon protest a racist hoodie… with a racist hoodie[?]" asked one commenter shortly after Dolezal debuted her design on Instagram.
"Have you no shame?" asked another. "You pretended to be one of us. 'Hood' is a derogatory term just as the word 'ghetto,' You would know this if you actually lived the life of a black person dealing with discrimination and racism."
"Lmao trying to take advantage of a situation," yet another commenter wrote. "Pathetic."
H&M, meanwhile, has issued a second apology for using a black child to model their "Coolest Monkey in the Jungle" sweatshirt on their UK website.
"We agree with all the criticism that this has generated — we have got this wrong and we agree that, even if unintentional, passive or casual racism needs to be eradicated wherever it exists. We appreciate the support of those who have seen that our product and promotion were not intended to cause offence but, as a global brand, we have a responsibility to be aware," wrote H&M in a statement to Fox News.
The retailer also confirmed that all of the sweatshirts were removed from their retail platforms, and aid they will be recycling the garments.
FOLLOW US ON FACEBOOK FOR MORE FOX LIFESTYLE NEWS
Dolezal served as the president of the Spokane, Wash., chapter of the NAACP until June 2015, when it was discovered that she was merely presenting herself as an African-American woman. She subsequently resigned, though she later stated that she believes race is a "social construct" and, like gender, can be fluid.