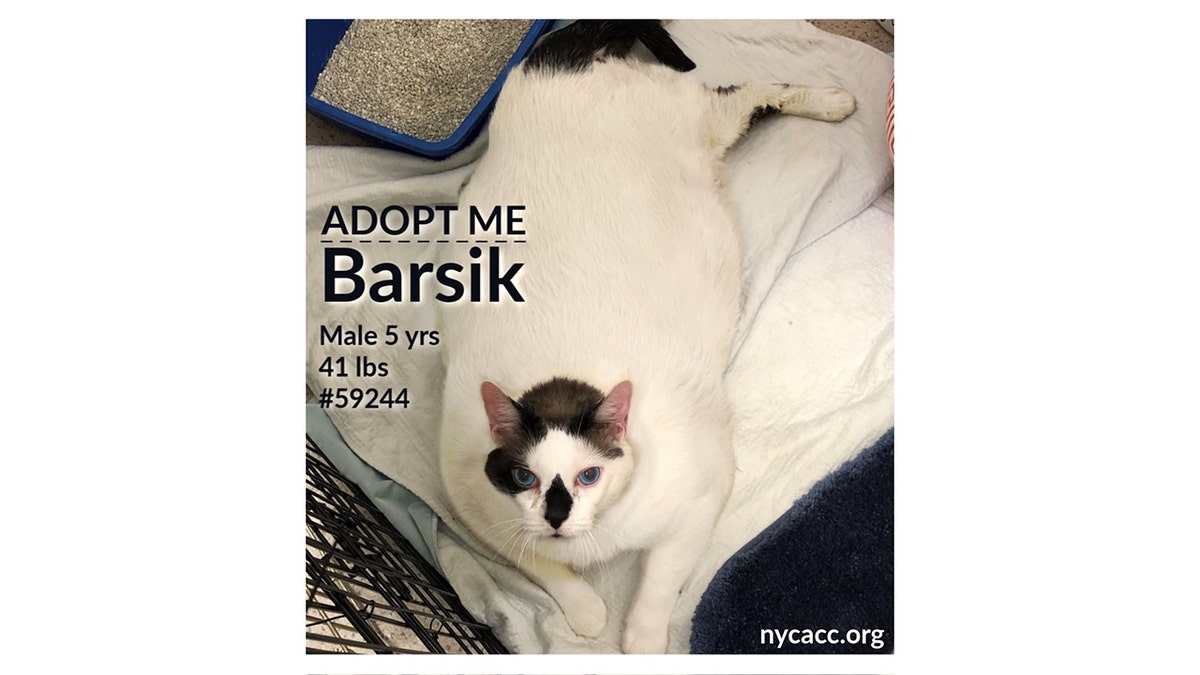 New York City is a place with many well-heeled fat cats but it is also a place with one really well-fed fat cat -- of the four-legged kind.
Animal Care Centers of NYC has put up for adoption a black and white feline named Barsik who tips the scale at 41 pounds.
CATS RECOGNIZE THEIR OWN NAMES – AS STUDY REVEALS DOG-LIKE ABILITY TO UNDERSTAND US
Barsik, a 5-year-old domestic short-hair, came to the Manhattan shelter Saturday, dropped off by owners leaving town. He has taken up living quarters in a staff office because he's too big to hold in one of the shelter's cages.
On Monday, Barsik and his housemate were moved to a foster home run by a volunteer from Anjellicle Cats Rescue in Manhattan.
"We'll be closely monitoring Barsik's weight loss, the group's Kimberly Couzens said.
CLICK HERE TO GET THE FOX NEWS APP
NYCACC''s Katy Hansen told the Daily News the cat is as sweet as he is large.
"He's clearly uncomfortable and doesn't like to be lifted, as you can imagine," she said. "That, combined with the new environment, would make anyone cranky, but he's not cranky at all. The longer humans have interacted with him, the easier it has become to care for him."