New technology reveals hidden secrets of ancient Mexican codex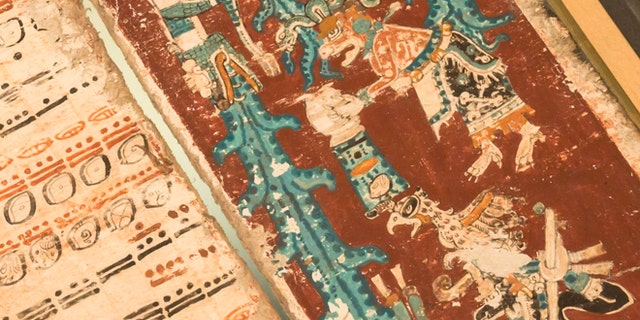 NEWYou can now listen to Fox News articles!
A new technique in scanning ancient documents has revealed a multi-cultured pictograph hidden under layers of chalk and plaster and sheds light about what life in Mexico was like before the arrival of Europeans.
Hidden for 500-years under a layer of thick chalk and plaster, scientists used hyperspectral imaging to reveal dozens of colorful figures arranged in storytelling scenes on what has been called the Codex Selden.
Many codices have been recovered from Mexico and Central America and translated to tell stories of battles, rituals and genealogies, but only a handful predate the arrival of Europeans in the region. The Codex Selden – named after the English jurist, John Selden, who donated it to Oxford University in 1654 – seemed to be a blank, 16-feet long piece of deerskin.
But cracks in the chalk and plaster surface – originally put on, it's thought, so the codex could be reused – showed glimpses of what seemed to be richly-colored pictographs. Over the years, researchers have tried scraping away the plaster layer, X-ray and even infrared scanning to uncover the images, but it wasn't until the hyperspectral imaging that the codex's truly revealed its secrets.
"This is very much a new technique," David Howell, study co-author and head of heritage science at Oxford's Bodleian Libraries, told LiveScience. "We've learned valuable lessons about how to use hyperspectral imaging in the future – both for this very fragile manuscript and for countless others like it."
The codex – which is believed to date back to 1560 – shows a cast of different people, including two figures identified as siblings as they were connected by a red umbilical cord. There are also drawings of seven women with red hair and a number of figures walking with sticks or spears.
Researchers also noticed two recurring glyphs in the codex, one being a flint or knife and the other a name that may belong to a figure that appears in other codices and could be that of an important ancestral figure.