New mom hits back at diet saleswoman who body-shamed her in Target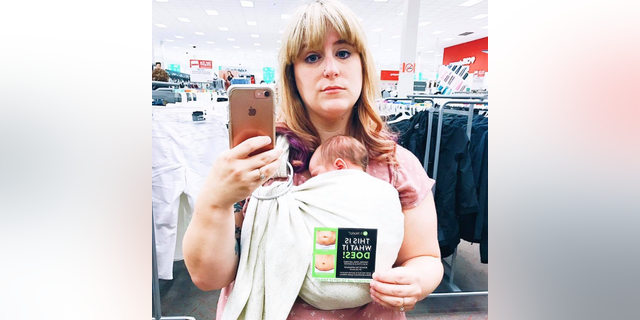 NEWYou can now listen to Fox News articles!
A new mom's viral Facebook post is gaining praise across the web for its honest and empowering take on female dynamics and how postpartum bodies ought to look.
Kelly Diane Howland wrote in the April 12 post that one day in Target, a woman approached her and began asking about the new baby Howland had been carrying — that is, until she segued into discussing Howland's body.
"'Have you heard of It Works before?'" the woman asked her, Howland wrote in the post. "I tell her that I know what it is but I've never utilized it. She proceeds with artificial shock and surprise and gives me her card and her spiel."
WOMAN CALLS STRETCH MARKS 'GLITTER STRIPES' IN VIRAL BODY CONFIDENCE POST
Next in the post, Howland describes how she's "not upset" about the existence, and, in the selfie Howland subsequently snaps in the store, even folds back the contact info for the woman who gave her the flyer. But Howland is upset over how she perpetuated the societal pressure all postpartum women face to return to their pre-baby bodies.
"Instead of leaning into superficial ideals imposed upon us, can we PLEASE start bucking the system and instead start praising each other for being the amazing, life giving, creation birthing vessels that we are?" Howland wrote. "Can we just offer each other adoration of the amazing things that we've accomplished and see our physical changes as marks of phenomenal accomplishment that only our sex has the privilege of experiencing?"
FOLLOW US ON FACEBOOK FOR MORE FOX LIFESTYLE NEWS
She wraps up the post by encouraging other women, postpartum or not, to re-evaluate their perception of beauty — and, to help empower those who have welcomed new bundles of joy, seriously reflect on what their bodies really need right now.
"My body doesn't need to be wrapped or squeezed or changed," she wrote. "It needs to be valued and revered for the incredible life it just brought into this world. THAT is beauty and THAT is all it needs."