Mother of two dies after being gored during bull run in Spain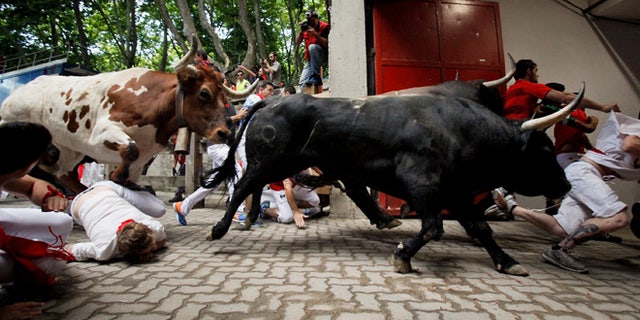 NEWYou can now listen to Fox News articles!
Animal rights activists might add the fatal goring of Sofía López González by a heifer in Spain to their reason for why the tradition of bull runs should end.
As the mother of two stood on the sideline of the Cristo del Rayo festival in the town of Moratalla – about 220 miles southeast of Madrid – along with her husband and one of her children, the animal's horns pierced her abdomen through a railing separating her from the street, fatally injuring her.
The 47-year old López González was an avid festival-goer, returning yearly to celebrate the week-long event.
Three days of mourning were called to honor the woman's death, and her funeral is set to take place Wednesday.
López González's death is fresh on the heels of matador Victor Barrio being gored to death by a bull in Teruel on July 9.
His death was the first of the century in a Spanish bullring. Barrio, 29, was born in Segovia and worked on a golf course prior to pursuing his dream of becoming a bullfighter.
Barrio's wife, Raquel was in the bullring when her husband's chest was pierced by the horns of the 1,100-pound bull.
Across Spain a number of towns hold bull runs during different celebrations, the most famous is the San Fermín festival in Pamplona.
This year, at at a festival in Pedreguer near Valencia, 29-year-old Rubén Frasquet Morant was gored to death by a heifer on the same day as Barrio's death, and at a bull run in Fuentasauco in the province of Salamanca, a 65-year-old man was gored when a bull broke through a fence and attacked a group of men.
PETA and AnimaNaturalis protested the Pamplona bull run this year denouncing the "cruel, violent and bloody" practice of bullfighting. AnimaNaturalis director Aida Gascón told Spanish news agency Europa Press that 48 bulls typically die during the festival at San Fermín.