Mom's Dying Wish Gives Son The Gift Of Sight As Doctor's Perform Region's First Mother-Son Corneal Transplant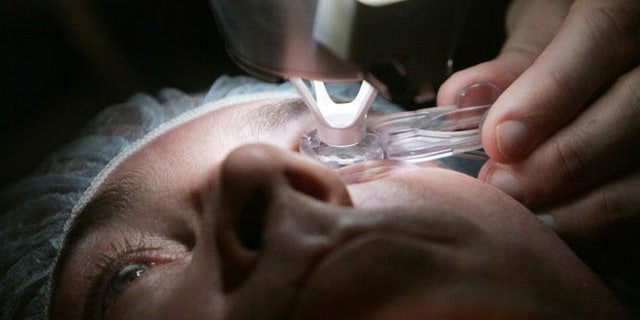 When people tell Juan Aguirre Santos that he has his mother's eyes, they aren't just making a nice statement.
Before she had a fatal heart attack at age 61, Miriam Aguirre Santos wrote down her dying wish: that doctors use her eyes to help restore her son's vision. Days after her death, doctors from Miami's Bascom Palmer Eye Institute performed what they say is the first successful mother-son corneal transplant in the history of the Florida Lions Eye Bank, allowing Miriam's son to see clearly out of his left eye for the first time since he was 5 years old.
"It's like a whole new world has opened up," the 39-year old Aguirre told the Miami Herald. "I'm seeing things like I never did before. Everything is very, very colorful."
Born in Cuba, Aguirre's left cornea was severely scarred when he was struck by a drunken motorcyclist while he and his family were walking near their home on the island nation.
"The cornea is like the window of the eye," said Dr. Guillermo Amescua, the ophthalmologist who performed the surgery on Aguirre. "Juan's injury was like if you smashed the windshield of your car. It's very cloudy and hard to see anything in front of you."
The Aguirre family moved to the U.S. in 1980 – two years after the motorcycle collision. And, despite his handicap, Aguirre has managed a successful career in the music business, living and performing in places like New York, New Orleans and Los Angeles.
A year and a half ago, Aguirre and his wife and two children moved to Virginia's rural Shenandoah Valley and tried to convince his mother – who suffered from diabetes, high blood pressure and depression – to move in with them.
"We thought we could get her to settle there, but she wasn't having it," Aguirre said. "She loved Miami too much to leave. She loved being with her friends here."
When Miriam died last month – on her birthday – doctors rushed to perform the transplant since corneas can only be preserved up to seven days after death for a transplantation to be successful. Even within the time frame, doctors said the chances of the procedure working successfully were slim to none.
"When I talked to the family, I told them there was basically a slim-to-none possibility that everything would fall in line for this to work. It would take a miracle," Elizabeth Fout-Caraza, executive director of the Florida Lions Eye Bank, told The Herald. "His cornea could have been too scarred. He could have had a cold and we wouldn't be able to operate. Any number of things could have happened."
Amescua performed the surgery on Oct. 1 by cutting a hole about 8 millimeters in diameter from Aguirre's left eye, then grafted the eye with a matching piece of Aguirre's cornea. He went home to Virginia the next day.
"It's wonderful and overwhelming at the same time," Aguirre said. "I look at my face, and I know a part of her eyes are part of me now. I know that she'll be with me forever."
Follow us on twitter.com/foxnewslatino
Like us at facebook.com/foxnewslatino