Mom of 'worst boyfriend ever' defends viral puck incident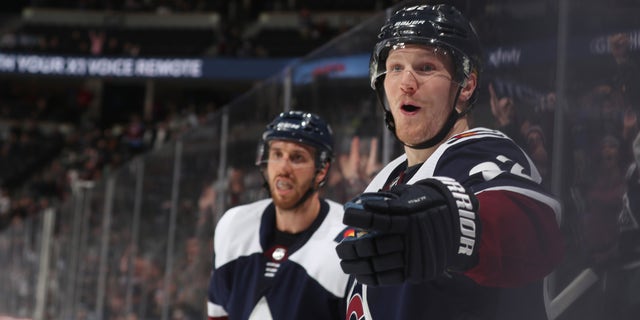 One Colorado woman is defending her son after he was christened the "worst boyfriend ever" by online commenters, after video footage of the young man giving away a stray puck at a recent Colorado Avalanche hockey game – to the evident disgust of his girlfriend – went massively viral online.
Last week, the Avs defeated the Winnipeg Jets at the Pepsi Center in Denver – and one flying puck accidentally sent into the crowd during has since sparked a frenzy of false reports.
As the home team practiced ahead of the match, captain Gabriel Landeskog sent a puck into the stands, which was quickly caught by Patty Beckman's son, as per Fox 31.
MAN ROASTED ON TWITTER FOR 'HORRIFYING' TIPS ON 'HOW TO BE A BEAUTIFUL WOMAN'
In the 40-second clip, which was played over the jumbotron during the game and has also been viewed nearly 15,000 times on Twitter, Beekman's son reportedly smacked his girlfriend – seated next to him – in the head as he caught the puck. He then handed off the prize to "a woman seated in front of him," as per People.
The camera then panned to his girlfriend, who sat with her arms crossed, evidently furious.
TMZ Sports soon crowned the man perhaps the "worst boyfriend ever," while Twitter users gossiped about the turn of events.
"EX girlfriend now," one commenter quipped.
"The level of disappointment and questioning her life choices is evident in that one look," another agreed.
"She should break up with him," one chimed in.
FOLLOW US ON FACEBOOK FOR MORE FOX LIFESTYLE NEWS
"That is so pucked up!" another exclaimed.
Beekman, meanwhile, confirmed to Fox 31 that her son handed the puck off to her — and that initial reports have gotten the story wrong from the start.
"She never wanted the puck. She was [mad] about something completely different," the mom, an avid collector of Avalanche memorabilia, said. She added that his son never hit his girlfriend as he made the catch, either.
Furthermore, Beekman says there's much more to the family's story than the critics realize.
CLICK HERE TO GET THE FOX NEWS APP
She told Fox 31 that she and her family are first-year season ticket holders for the Avalanche, after Beekman was diagnosed with a terminal illness soon after suddenly losing both of her parents.
Now, the family is looking forward to attending more games this season to bond and spend quality time together, while putting this viral video gone wrong behind them.
"We all know we're going to pass away. We all know it's the inevitable," the woman said. "But when you're slapped in the face with it, it brings a whole new meaning to 'Don't waste the day away.'"