Mom of 6 shares inspiring message about stretch marks: 'Stop beating yourself up'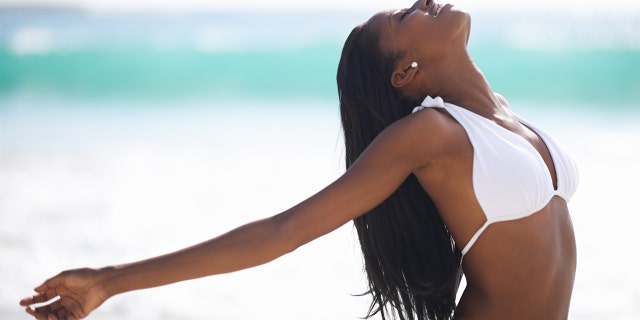 NEWYou can now listen to Fox News articles!
Sometimes, all body acceptance requires is a simple mindset shift. Just ask Instagrammer Sharny Kieser, a mom of six whose husband helped her change her personal definition of beauty.
In a recent Instagram post, Kieser wrote to her 130,000-plus followers about her struggle to feel good about her body because of her stretch marks and how they held her back from achieving her fitness goals.
"I used to not see the point in exercise because my body was covered in stretch marks. 'what's the point in having a great body if I will never wear a bikini' I'd think," Kieser wrote on Tuesday.
One day, Kieser explains in the post, she overheard her husband explaining to his friends why he thought stretch marks were beautiful, and his outlook changed her perspective.
"They were a sign of being a woman. They are a result of the great love a mother has, that she would scar her own body to bring a child to life," Kieser wrote.
NEW MOM SAYS STRETCH MARKS ARE 'NOTHING TO BE ASHAMED OF'
She realized she wasn't appreciating the marks for what they are. Her stretch marks aren't something she should be ashamed of or feel the need to cover up, but rather something to celebrate for why she has them.
"My body wasn't ruined or disgusting, it had transformed from a selfish girls (sic) body into a selfless mothers (sic) body and the scars were a symbol of that transition," Kieser wrote.
The fitness expert isn't the only public figure to embrace her body for what it is. Model and mother Chrissy Tiegen, known for being refreshingly relatable on social media, tweeted out a pic of her stretch marks with the caption "whatevs." Her realness was praised by her many followers who expressed their gratitude for her post.
FOLLOW US ON FACEBOOK FOR MORE FOX LIFESTYLE NEWS
In her own social media post, Kieser reveals how she finally gained a new perspective on the body feature she once felt the need to hide. "I looked at my stretch marks and I felt pride," she wrote. "I felt love. The love of my husband and the love of my children."