Minnesota woman's Instagram post raises $4K tip for restaurant servers
250 Instagram users respond to 'Venmo challenge' for restaurant workers
A Minnesota woman put her social media clout to use for a good cause ahead of Thanksgiving.
Alyssa Greene raised nearly $4,000 to tip restaurant servers just before new statewide coronavirus restrictions forced eateries end dining on-site, according to the Pioneer Press.
Greene took part in the challenge at the suggestion of her husband, Jon Greene, ahead of their dinner reservations at Va Bene Caffe in Duluth on Friday, according to the report. She posted a link Friday morning on Instagram to her Venmo account. She has about 147,000 followers on the platform.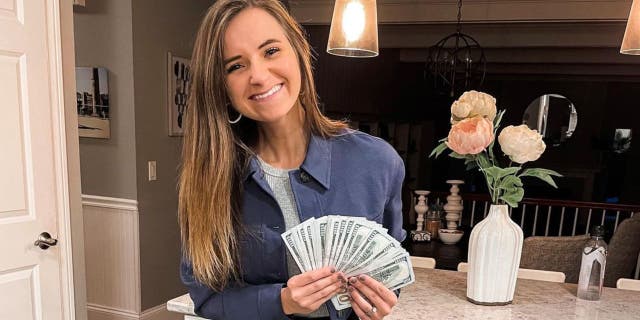 MYSTERY COUPLE LEAVES ARKANSAS STEAK HOUSE SERVER $1,700 TIP IN CASH
"And people donate small amounts of cash – whatever they chose – and then you use that money to give your server a generous tip," Alyssa Greene told the newspaper.
She was expecting maybe a few hundred dollars. But more than 250 of her online followers surprised the couple by giving a "mind-blowing" $3,800, according to the report. The Greenes rounded it up with their own money to $4,000.
Alyssa Greene told the Press that the donors were from "all over the country."
CLICK HERE TO GET THE FOX NEWS APP
"There were all these people who wanted to be part of something good," she said. "That was incredibly encouraging to see."
Greene documented the events in an Instagram video. She started by giving $1,500 to their server, tipped some more to the other server who was working and then gave the rest of the money to restaurant co-owner Luke Schmitz to spread among the rest of the staff.
"We were able to spread it evenly around to the rest of our staff, as a nice Christmas bonus," Schmitz told the newspaper.
CLICK HERE TO SIGN UP FOR OUR LIFESTYLE NEWSLETTER
It was good timing for the restaurant workers. COVID-19 has infected more than 289,000 people in Minnesota, according to the state Department of Health. And new cases reported in a day peaked in Minnesota with 7,052 reported on Nov. 17, according to Johns Hopkins University.
The new restrictions on restaurants and bars in Minnesota will last four weeks, through Dec. 18. Va Bene will be open only for take-away and with adjusted hours in the meantime.
"It's incredibly nice at this time when some of them won't be able to work," Schmitz told the newspaper. "It'll be nice for them to have some cash that they weren't expecting to have."