Mindfulness classes may work better for women than men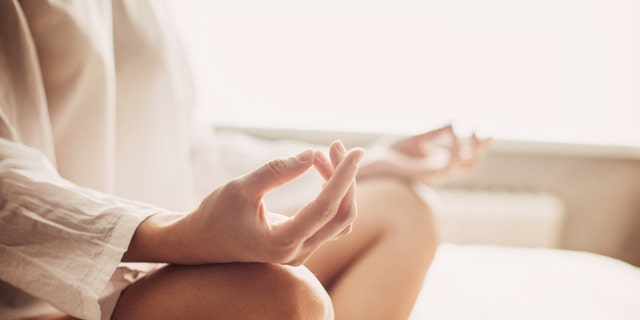 NEWYou can now listen to Fox News articles!
Practicing mindfulness — a main tenet of meditation and yoga — may improve mood in women, but not men, a new study has found. Authors from Brown University say their research suggests teachers in the mindfulness space may need to consider gender differences when holding their classes.
"The gender gap in mental health has been inadequately targeted and often only within the standard medical arsenal of pharmacological treatment," co-lead author Rahil Rojiani, a Brown graduate and now a medical student at Yale University, said in a news release. "Our study is one of the first to explore the effects of mindfulness across gender."
'DOING A MIND CLEANSE HELPED ME EMOTIONALLY DETOX'
Mindfulness aims to promote a sense of awareness to physical, mental and emotional sensations. A wealth of research has linked the practice to increased focus, reduced stress, improved working memory and more, according to the American Psychological Association (APA).
Authors of the current study, published Thursday in Frontiers in Psychology, studied 41 men and 36 women in a 12-week mindfulness course, which included exams and papers, but also three hour-long meditation labs per week, according to the release. Over the course, the men and women meditated for the same amount of time in class and outside of class — for about 41 hours total.
WHY YOU FEEL HUNGOVER EVEN IF YOU DIDN'T DRINK MUCH
Researchers measured participants' fluctuations in self-compassion, mindfulness and affect (or mood) through questionnaires they completed at the beginning and end of the course.
At the end of the class, researchers observed that men and women saw improvements in mindfulness and self-compassion skills, but, overall, women saw greater advances in four of the five areas of mindfulness, while men saw improvements in only one of those areas. In particular, men were better able to identify and describe their emotions, while women became kinder, and less self-critical, reactive and over-identifying of their emotions.
Those improvements in mindfulness, researchers wrote, were directly tied to women's improvements in negative affect. In other words, the mindfulness course improved women's moods more than it did men's.
FOLLOW US ON FACEBOOK FOR MORE FOX LIFESTYLE NEWS
Authors speculated that the current structure of mindfulness classes may be tailored to address women's emotional concerns, but not men's. If you've already taken a yoga or meditation class, you've probably heard the instructor ask you to approach the practice from a non-judgmental place while also acknowledging your feelings — and, based on the study's findings, those ideas align with the improvements women saw in mindfulness.
The takeaway, researchers suggested, is that most women will likely see benefits from popular mindfulness classes, but if you're a man seeking the same outcomes, that may not be possible with the way classes are currently structured.