Mikaela Shiffrin admits to napping between Olympic skiing runs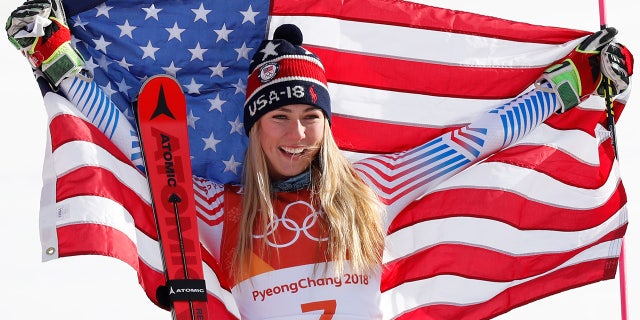 That's one way to go for the gold.
On Feb. 15, skier Mikaela Shiffrin took home gold for Team USA in the women's giant slalom event. While her Olympic competitors were likely abuzz with anxiety, the 22-year-old Colorado native kept her cool with a customary ritual before her victory-cinching second run: napping.
"I do it on every race. There's always a little bit of time between the first and the second run and I think I had an hour today where I could sort of lie down for an hour on a bench in corner of the lodge," Shiffrin told USA Today. "Yeah, I had my music on, my big headphones and noise canceling so I couldn't hear anything except my music and I fell asleep.''
RED STRIPE BUYS JAMAICAN BOBSLED TEAM NEW SLED AFTER COACH QUITS
"Today I didn't really fall asleep, but it was somewhere in between. It's nice," she added. "For me, that's one of my favorite times during a race day is when I can like lie down and take a deep breath and get ready for the next run.''
Of course, Twitter had a lot to say about the ski star's wellness habit, likening her to a "superhuman." As evidenced by photos she's shared on social media, Shiffrin is a longtime fan of rest and relaxation.
DESIGNERS SPILL SECRETS OF OLYMPIC FIGURE SKATING OUTFITS
"Level of calm I aspire to achieve: Mikaela Shiffrin being able to take a nap in between slalom runs competing for a gold medal..." one user wrote.
"While you were sleeping: Mikaela Shiffrin took a nap, then won gold. As one does," another quipped.
An essential element of her daily regime, Shiffrin told Outside Magazine that though she averages at ten hours of sleep every night, she wakes up excited to later go back to bed.
FOLLOW US ON FACEBOOK FOR MORE FOX LIFESTYLE NEWS
"[T]he first thought I'll have [upon waking up] is: I cannot wait for my nap today. I don't care what else happens. I can't wait to get back in bed," she told the outlet.
Envisioning victory on the slope sounds like sweet dreams, indeed.