Michael Kors accused of 'stealing' traditional Mexican sweater design for Spring 2019 collection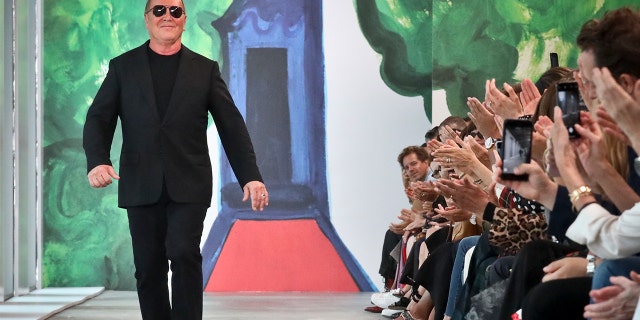 NEWYou can now listen to Fox News articles!
They say art imitates life, but in Michael Kors' case, that might not be a good thing.
The American designer debuted his Spring 2019 collection at New York Fashion Week Wednesday. While the majority of his colorful, beach-inspired designs were well received, one item caught the attention of some who claim it looks awfully familiar.
LENA DUNHAM SLAMS REVOLVE FOR FEATURING HER CONTROVERSIAL SWEATSHIRT DESIGN ON 'THIN WHITE WOMEN'
Mexican photographer Santiago posted a side-by-side photo on social media of a Michael Kors black and grey hooded sweater straight from the runway alongside one of him wearing a very similar style.
"The new Michael Kors collection, which probably costs thousands of pesos...Sweatshirt that I bought in the Coyoacán market two years ago for $180.00 pesos [$10]. For these and many other reasons I hate the Fashion industry," he wrote on Facebook.
Others on Twitter shared similar feelings, accusing Kors of stealing the traditional Mexican design.
"So Michael Kors is just gonna (sic) start making thousands of dollars out of something that Mexican artists have been doing for years and years. Well I already got it last year for 100 pesos... 5 DOLLARS. Hell nah that ain't it. Stop doing this s--t!!! It's annoying & unfair!!!" one person wrote on Twitter.
"Michael Kors copied a Mexican sweater design and I'm pissed. It's not fair that he is stealing ideas from people that make their own pieces to make a living, for him to come and not even credit or pay Mexican artisans for taking their ideas," someone else commented.
FOLLOW US ON FACEBOOK FOR MORE FOX LIFESTYLE NEWS
"Uhm what the actual f--k, these tops are part of Mexican culture and are usually knitted by indigenous ppl, but now Michael Kors is presenting them as part of his spring 2019 collection? BULLS—T," another person wrote.
Michael Kors did not immediately respond to Fox News' request for comment.