Michael Jordan-obsessed fan gets 23 jersey tattoo across entire back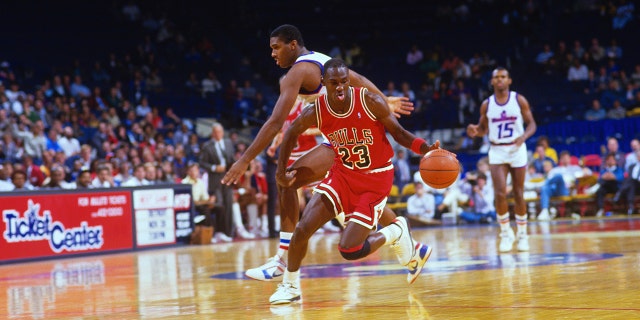 He's the "Jordan" of all Jordan fans.
A basketball devotee in the Dominican Republic has taken Michael Jordan obsession to the next level by getting the iconic player's full jersey tattooed on his back.
The fleshy rendering looks scarily real, perfectly capturing the slouch of the fabric, the pinprick holes in the performance fabric and Jordan's famous signature, scrawled onto the number 23.
The giant piece appears to have been completed in one day at a shop called Family Tattoo in Santo Domingo Este, requiring the talents of a full team. In addition to an artist named Maximiliano, the post tags an artist named José Manuel Yegres of Chema Tattoo, as well as another shop called Ache Tattoo.
The superfan, who goes by @Kon3Viga on Instagram, posted the first picture of his fresh ink on Sunday. A follow-up photo snapped in the middle of the tattooing process shows the sports-fanatic customer lying on his stomach with three artists inking his back. A caption reads "dios mio" ("my God"). @Kon3Viga did not immediately respond to a request for comment.
It's no surprise he chose Jordan's jersey to mark his body. The legendary player, a six-time NBA champ and two-time Olympic gold medalist, is widely regarded as one of the greatest athletes of all time. Jordan's hoops career spanned decades, with stints on both the Chicago Bulls and Washington Wizards. He maintained the No. 23 on both teams. Jordan's namesake sneaker line with Nike remains wildly popular today.
Judging by his Instagram feed, @Kon3Viga is a sneakerhead, regularly posting pics of Air Jordans matched with other Jordan merch. His tattoo, however, is one piece of fandom he can't trade away.